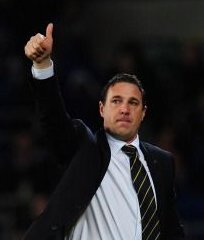 Mackay will welcome Craig Noone back to the squad after a one match suspension and he must decide if Noone replaces last weekends match winner Craig Conway.
Tommy Smith is nearing fitness after several weeks out but will not be ready for the trip to Ewood Park. A Cardiff win would stretch City's lead to eight points over third placed Leicester before the Foxes play at home to Barnsley on Saturday.
Speaking ahead of the trip North the boss said
"We've been pleased with recent results, but what you want now is the momentum we have built to keep building.
"We are getting towards the halfway point in the season now. That is a time where maybe you take stock of what you've done up until then.
"But there's not really much time to be doing that, the games over Christmas and New Year come thick and fast so you have to stay focused on the next game at the same time too.
"But we are confident right now. The result against Sheffield Wednesday will have done us good.
"It wasn't the prettiest of games and there were distractions with Dave Jones coming back for the first time and there was the fact we were last to play over the weekend and that put a little bit more pressure on us.
"But the players stayed focused and got their reward for that.
"It sets us up nicely for what is to come and we will all be looking forward to the next game."
Blackburn away is not going to be an easy trip for City. Even though they have lost their last two home games and only won one of their last seven matches.
"Blackburn have obviously just come down from the Premier League and they have spent some money," said Mackay. "The one thing you can say is that they are experienced. They've got a group of experienced players right through the side.
"I would not say that they have under-achieved at all so far. They've got a new manager in there and he is going to start doing things his own way which can take time.
"We know it is going to be a very tough trip for us, but we've had a couple of fair results away from home and we go there confident and very much looking for a result."
Blackburn v Cardiff
Friday 7:45pm
Live on Sky