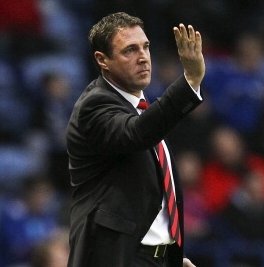 "This was a really big win for us after losing to Peterborough and it was smashing the way we bounced back from that. I'm delighted," Malky Mackay said.
"We knew we were coming to play a very good team and that it was going to be tough. But I think this was a great advert for the Championship - and I'm not saying that just because we won. It was two teams playing attractive football and at a hell of a tempo.
"The goal was a great strike from Bellamy and it showed the quality we have. But it was just as impressive to see the way he was closing players down in the last five minutes of the game. It shows what a team player he is.
"He is beginning to get match-fit, because he has been unfortunate with injuries. In this game he never gave the defenders a minute's peace. He is comfortable being with this group of players and enjoying his football.
"But it was also a good defensive performance all round, and I think David Marshall is the best goalkeeper in the division."
Leicester boss Nigel Pearson couldn't quite believe his side had lost.
"When you create as many goalscoring opportunities as we did you would expect to score," he said. "But we came up against a side that, to be fair to them, defended well and had a lot of experience.
"They hit us with a sucker punch and in the second half it fizzled out a little bit. It was a frustrating day. We didn't manage the ball as well as I would have liked but you have to give them a bit of credit. They got everyone behind the ball and tried to hit us on the break.
"But we deserved to get to something out of the game. Scoring goals obviously is the key factor to winning games but I would be more concerned if we were not creating chances.
"We are putting together a promotion push but things have not gone our way in the last few weeks. What we must do is keep in contact with the sides in the automatic places."