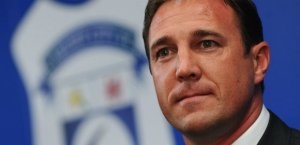 "It's going to be a tough game. Blackpool went up to the Premier League and they've managed to build on that," said Malky Mackay.
"They've brought in players, but they've had a consistent team there over a three-year period now.
"We were doing well against them at home last season, but then again a I think a late error got them back in the game. I was very happy with the way we played against them up there. I thought we were fantastic and on another day we could have won comfortably.
"But I have no doubt about the threat they pose. That's why they are favourites. They've got a lot of attacking threat and that is why the can score from anywhere.
"Kevin Phillips has scored goals everywhere he's been. He's a top professional. He looks after himself.
"You look at young Tom Ince on the wing and Matt Phillips too, they are all action. There is going to be a lot of danger."
And Mackay hopes City build upon the three home wins from three games so far this season.
"We desperately want to turn our stadium into a fortress," said Mackay.
"We want to make it a place where teams just don't want to come. They don't want to listen to the noise of our fans. Listen to the way they spur us on.
"The way the team play there and the goals that go in. That is something we are trying to build on from last year.
"We've had fantastic support from our fans here, right from day one in terms of the effort they see from their team.
"I think if they see effort they will stay until the last minute. I think if we are trying to play football and get forward and score goals they will stay to the last minute.
"They will cheer the team on even in defeat if they see we are trying to win games and that we are doing it in the correct manner."
Cardiff v Blackpool
Saturday 3:00pm.