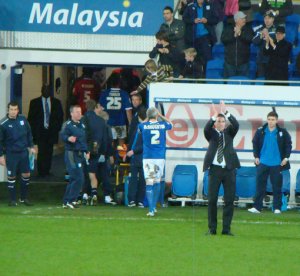 Malky Mackay (as captured, right, by Jon Candy) has moulded a team of hard-working players who are getting an effiecient job done and keeping in touch with the top of the Championship table.
Today's 1 - 0 victory over Nottingham Forest was less than dynamic at times but a massive three points nonetheless
"The lads are starting to organise themselves on the pitch now and there are more voices out there than there was before," Mackay commented after the game.
"It's always good when players take control and responsibility. That's something I'm beginning to see.
"It was a battling three points and I'm pleased about that as Forest are a tough team who set themselves up make sure that we didn't take them out easily.
"We couldn't find a lot of spaces so we had to be patient with our openings. We had three or four great chances in the first half and that would have changed the game as it would have opened the game up. But the character of the team showed through.
"It's about momentum and winning brings confidence. The group is starting to know how each other work and when you see so many of them acting in a professional manner around the training every day then you start to see those rewards on the pitch."
And that of the match winning substitution when Joe Mason came on to score the winner.
Mackay said: "It was just a normal substitution. Young Joe has been very patient and at times hasn't deserved to be out of the team.
"He's young, he's learning and he has great potential. The coaches have worked hard to improve him, but Joe is listening to lads like Robert Earnshaw and Kenny Miller.
"He is a goal threat and his header was sublime.
Forest manager Steve Cotterill, who has won four of his first seven games in charge, said: "We have played better than that. We were better in the second half than the first and I thought we deserved a draw.
"It was a game littered with silly free-kicks and I didn't think we got many decisions from the referee."