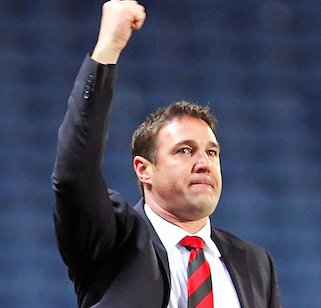 Speaking to the press after the victory over Swansea, Malky Mackay was asked if he had been speaking to Vincent Tan and did the owner give him credit for the win.
"I've not spoken to the owner yet and I don't know [the answer] to the second one," Mackay said.
"What I am delighted about is that performance and the three points for our fans, our staff and our players, because they've had a tough three or four weeks to endure – and I'm talking about the players here as well.
"So for us to come out with a performance like that and put smiles on everyone's faces in Cardiff is something that really pleases me more than anything else. We have worked hard here for two and a half years, in terms of my team of staff and the players we have brought to the club to get to a point like that, and we desperately want to make sure that we are here next year in this division."
When asked about match winner Steven Caulker Mackay added
"We did our homework on him and knew that he would be a good signing for us, as we did with all our summer signings. I was really pleased with the summer haul of players that we got here; it's added to the good group that we've got over the last couple of years. We've brought in over 30 players over the last two and a half years and there's a system attached to that, and it's why we're in the situation we're in right now."
Swansea boss Michael Laudrup said
"It was a very tight game, we knew it would be. You can't give Cardiff the chance with set-pieces.
"One set-piece, a corner, and they scored a goal. That was more or less all the chances they had in the whole game. It hurts to lose a derby, but that's how it is.
"I think we dominated well in the first half in midfield. We only had a couple of chances, but we kept them away from any chances.
And on the red Cardiff for Michel Vorm. "He's last man, so it's what can happen."