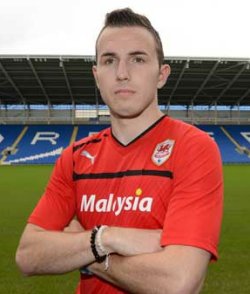 Jordon Mutch has a nerve problem that has kept him out since 18 September.
"He has still got his on-going foot problem which we are trying to get to the bottom of," said manager Malky Mackay.
"He has got a nerve problem on the underside of his foot that's is causing him pain.
"It's something that has got to be right for him to come back. [There's] no point coming back and 20 minutes into a game and he's off.
"The medical staff and our specialist staff are dealing with him.
"It's not like a hamstring tear and that equates to four weeks - it's a nerve issue."
Mackay expects to be without Bellamy (ankle) and Smith (hamstring) for at least a fortnight, while Nicky Maynard is out for the season.
"[Bellamy and Smith will be out for] two or three weeks - it will be gauged on how they are feeling," revealed Mackay, who knows he has four quality players on the sidelines.
"Craig Bellamy and Tommy Smith [are] two top, top players. Nicky Maynard [is] a top player in our division and young Jordon who is a potential top talent.
"They are four players who are big players for the club, but at the same time that's why we have a bit more strength in depth, and a quality of depth.
"It's up to people to take the jersey and keep it as long as possible.
"You want to get everybody fit and your best players back - we are not going to have that with Nicky at all this year.
"But the other three we will get them back into the squad and push on again."
"We have got to be better [away from home] - it's as simple as that," insisted Mackay.
"For large parts of the Bolton game we were comfortable and they never threatened.
"We've scored plenty of goals away from home. So there is no negativity or lack of ambition in terms of being away from home."