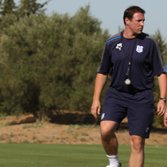 Some eye opening comments from the manager and some decent observations and comment from the reporter.
Mackay told the paper
"The passion here is unbelievable. It's a capital city and it might be small but within an hour there are a million people.
"Our gates are up at 23,000 and if we get to the Premier League they would take the roof off the stadium and get in 5000 more seats."
Some of Malky's other comments were quite surprising.
Of the training ground he said
"Honestly, there wasn't a single piece of branding anywhere, nothing to tell you there was even a football club here."
The full article can be found at the link below: