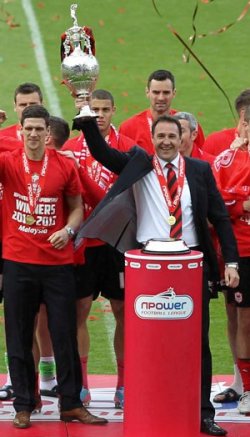 Speaking to the Echo Malky outlined his plans for next season.
"I don't think it is vastly different building from the Championship to the Premier League. It is like the first season to second season I've had at Cardiff," said Mackay.
"The first season we got to the Carling Cup final with a very small squad. Players had to play an incredibly high number of games.
"Then last summer we managed to bring in a better quality of player to add to the group and we also let some go.
"It will now be the exact same this summer. We need to bring in some quality players, but there are a lot of players who helped us win the Championship who now will be able to go on and play in the Premier League.
"The standards we already have in training here means players have to be of a certain level of fitness and have to be comfortable on the ball.
"So we've got all that and then it is all about tweaking. I've no doubt we are going to need to add quality, but there's a lot of guys who are already here who have very good quality and who will be able to play in the Premier League."
"I've had to be prudent from the start as a manager and nothing is going to change. Of course as the levels rise you have to be cute about things, but I document every penny that I spend. It's not about gut feeling, it's about having sound business reasons for signing a player."
The boss has less than 90 days to assemble his squad before the new season kicks off.