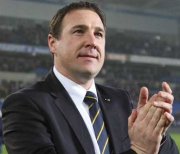 The Premier League managerial merry-go-round burst into life yesterday with the news that Brendan Rodgers is moving from Swansea to Liverpool. This was followed by strong rumours that Paul Lambert would be leaving Norwich to move to Aston Villa.
At the time of writing the Rodgers to Liverpool move is almost complete but there is still uncertainty over Lambert's future but what has happened overnight is that a list of likely sucessors have been drawn up with Malky Mackay's name pretty much on top of it.
Mackay of course played for Norwich during his career.
Malky is under contract with Cardiff City until 2016.