I accept that this blog is not going to be everyone's cup of tea and one of the reasons for that is that what I write goes on for too long for many people's tastes. However, I like to think I try to come at a game from all angles that I feel are relevant and find that, as a rule with first team games at least, it takes me around two thousand words to do so.
I put the length of most of my pieces on first team matches down to my love of the game and my love of my team – I enjoy writing in the way I do and it's no hardship to do so.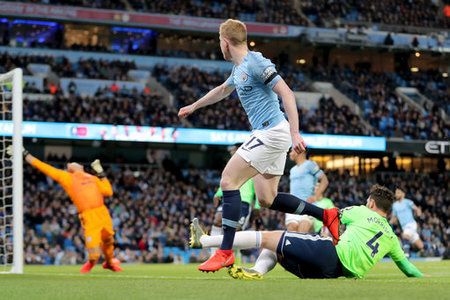 However, this one is going to be different. Before last night's match at the Etihad against defending Champions, Manchester City (I'm about 99 per cent sure they'll win the title this season as well because they are the real quality outfit in this season's Premier League field) I had resolved not to watch any of the game live because I had found our previous two matches with the richest team in the country (2-0 and 5-0 defeats at Cardiff City Stadium that had been little more than training exercises for Pep's team) to be soulless and completely predictable occasions to be endured, rather than enjoyed.
That's not to say I blame anyone in particular for this situation. As far as Manchester City are concerned, they may have the advantage of all of that money, but it cannot be denied that they have spent it well. When I watch them as a neutral. I enjoy the way they go about playing the game and matches against opponents good enough to test them fully usually make for great entertainment, but, too often, the fact that they are way better than the other team, makes them a sterile, somewhat surgical, watch and that's not what football should be all about as far as I'm concerned..
As for City, I think that, frankly, it's almost impossible for a team with our playing and financial resources to be truly competitive against Manchester City. Defeats by the likes of Newcastle and Crystal Palace this season show they can be beaten by some of the Premier League's lesser lights and memories are still fresh of our 3-2 win over them in our first ever home Premier League match – but they have moved on an awful lot since then.
The thing is as well that sides like Palace and, to a lesser extent, Newcastle have a nucleus of individuals within their squad who can trouble the very best if it is their day. However, under this manager, Cardiff City don't do mercurial, if a bit flaky, they do solid, hard working and physical and, to be fair, it's a formula that has worked well for us because it has, in the main, got the very best out of the somewhat limited squad we have.
Unfortunately, I believe that the limitations of the "Warnock Way" have been exposed to a large degree in our encounters with the top six clubs this season. For every Arsenal (twice) and Chelsea at home, there has been a Manchester City, Spurs and Manchester United at home and Liverpool and Chelsea aways and so, with just two more top six matches left to play, it's looking increasingly like the twelve games will not yield us a single point.
The best sides are able to cope with our physicality and work ethic and then use their huge advantage in skill and flair to, generally, see us off pretty easily. As the best of the six, Manchester City did this pretty effortlessly in the last two visits to our ground despite the fact that, on the face of it, they are not the most physical of sides. You'd think that a side like City could cause them problems from set pieces especially, but, like Muhammad Ali at his best, Man City have the ability to make physically stronger opponents look foolish and clumsy as they keep them at arm's length to the extent that they never get a glove laid on them.
The trouble is when you're a supporter of that team which is, in boxing terms, flailing away and almost swinging themselves off their feet as they keep on missing an opponent that always manages to stay just out of reach, it all becomes a bit soul destroying and almost pointless. In fact, for this watcher anyway, there are none of the things which fueled my love of sport, and some of the individuals and teams that played it all of those years ago when I was a kid present.
However, despite all that I've said in the last few paragraphs, when push came to shove last night, I couldn't abandon City completely! So, I spent the ninety minutes dipping in and out of the match in the manner I do when Manchester City are seeing off another Premier League side in that comfortable, but almost soulless, manner I mentioned earlier.
As it turned out, I was watching for most, if not all, of the game's telling moments. I saw us concede another of those early goals against a top side which almost kills the game off before it has began and, to be frank, Kevin DeBruyne's goal scored in the sixth minute had been coming for the previous five! Neil Etheridge, who I saw make a couple of excellent saves later on, will have been disappointed to have been beaten on his near post, but, to his credit, DeBruyne confirmed my initial suspicion that he hadn't intended to shoot when he was interviewed after the game .
That goal had me muttering this is going to finish up 10-0 as I huffily switched to another channel, but during the periods in the first half when I returned, City, without doing anything to suggest they could equalise, were hanging in there – albeit luckily at times.
Sadly, a quality finish by Leroy Sane in the forty fourth minute ensured that we could not reach the comfort of half time just the one goal down. Maybe if we could have done that, there would have been a chance of us somehow staying in the game and nicking a draw with a goal from a set piece or something, but at 2-0 after forty five minutes the odds favoured something like another 5-0 to match the canter that Man City enjoyed at our place back in September.
To City's credit, they were able to prevent that happening during a goalless second period. True, the impression I got from what I saw was that, with their congested fixture list over the coming weeks as they chase a quadruple which I think could come down to whether they can overcome Juventus in the Champions League, Man City took their foot off the accelerator a bit. However, we were at least able to create a chance of a type that we never had in our previous two encounters with Pep's side which would have made the last five minutes very interesting if we had been able to put it away.
Unfortunately, Oumar Niasse, in a repeat of his horrid miss against West Ham, gave the impression that he has never scored a goal in his life as he got himself in a right mess after racing clear and allowed Ederson to save. It's strange that someone who has nearly one hundred and fifty career goals can look so novice like when given the chance to add another one, but I would say that Niasse is the type of player that epitomises Neil Warnock's general preference for effort and attitude over technique.
Certainly, there are plenty of times when I would like to see the gauge which measures City's Artisan v Artist rating swing more towards the latter, but, as I mentioned earlier, our manager can point to two and a half years of results which I reckon many would have thought impossible when he was appointed. The fact of the matter is that trying to switch from what we are for the remainder of this season would, surely, only guarantee our relegation.
As it is, I think those wins for Burnley and Southampton on Saturday have probably done for us. The three sides currently on thirty three points have only to win one more game each this season to leave us needing three victories or two three pointers and three draws to get past them – Brighton were beaten 3-0 at Chelsea last night to further confirm how vital that narrow win over Huddersfield last month was for them because they would be a real target for us to aim for without it.
In a way, nothing has changed after last night – we were never going to get anything at the Etihad and at least we managed to keep the margin of our defeat down to a level which is not going to shatter morale for the games at Burnley and Brighton from which I would say an absolute minimum of three points is required – two draws will not be good enough.
I'm afraid it was a defeat as well for the Under 18s yesterday as they lost their game in hand over league leaders Ipswich. City were beaten 2-1 at Sheffield United with Dan Griffiths scoring a first half equaliser from the penalty spot – the second period brought just the one goal for the home side, but City, still with three or four very important players missing through injury, must have come away wondering how they had lost after they managed to hit the woodwork four times in those final forty five minutes.