Thanls to Paul for his comments on our games through the season. Here is his view on the win at Old Trafford and a link to his blog which contains comment on many other aspects of cardiff City.
http://mauveandyellowarmy.net/
I'd made up my mind before today's season closing fixture that I would not waste much time writing about it because it was a completely meaningless fixture with nothing whatsoever riding on it. That's all changed now because I must give it more attention than I originally intended – after all, it's not every day your team goes to Old Trafford and wins is it!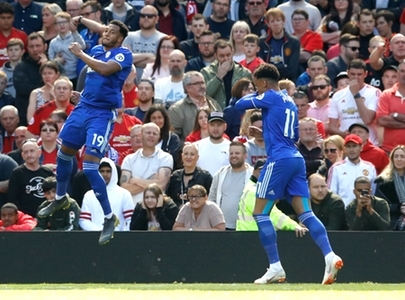 In fact, speaking for myself, there hadn't been any day when it had happened – I was born on 5 February 1956 and that was just over twenty two months after we had won at Manchester United on 3 April 1954 when a couple of goals by Wilf Grant and another by Derek Sullivan clinched a 3-2 win (we won 4-1 at Old Trafford the previous season as well with Grant again "bagging a brace")

This time victory was by our favourite score lately as Ole Gunnar Solskjaer's team were dispatched by the same 2-0 scoreline that saw off Bournemouth, West Ham and Brighton. The two goal hero in 2019 time was Nathaniel-Mendez-Laing, who returned to the Rochdale (their home ground is twelve miles from Old Trafford) area to shine in front of a crowd which may have been forty times bigger than some of the ones he performed in front of at Spotland

After an injury hit first half of the season and then some patchy form on his return, Mendez-Laing has finished the season in a fashion which suggests he could be a real force at Premier League level if he ever gets another go at it.

The winger, who scored a worldy at Brighton, gave one of the Liverpool heroes in their midweek win over Barcelona a torrid time of it down here (I've not seen Trent Alexander-Arnold struggle against a winger as much as he did against Mendez-Laing in the first half three weeks ago) and caused Palace problems whenever we could get him into the game. Today, although he surged past Ashley Young impressively early on, it was more the fact that he got the goals that made his performance notable on an afternoon which must mark a career high for him.

That said, he did use his pace to get beyond United right back Diogo Dalot in the twenty second minute to draw the foul which earned us that most rare of animals – an opposition penalty at the Stretford End.

Truth be told, after all of the recent accusations against match officials for a series of decisions that went against us, I reckon this was one to redress the balance somewhat – referee Jon Moss, who we had reason to be grateful to for the excellent advantage he played which allowed us to score the only goal in our win over Southampton in December, pointed to the spot after Mendez-Laing had taken an air shot as he tried to cross and I have to agree with the widely expressed view I heard after the match that it was doubtful if we would have got the decision if VAR had been in use.

Given that Bobby Decordova-Reid had netted from the spot against Bournemouth, it was a surprise to see Mendez-Laing step up to take the kick , but he kept a steady nerve in what must have been the most testing of circumstances to send DeGea the wrong way as he fired low to the keeper's left.

The goal was a reward for an enterprising start by City who ended the first half with the most goal attempts, eleven, by any visiting side to Old Trafford this season. Now, I daresay that Neil Warnock's selection and tactics would have been more conservative if there had still been a chance of us staying up, but by going with Josh Murphy on the other wing, Decordova-Reid as a kind of number ten and Kenneth Zohore up front, our manager came up with a quartet which caused what has been an unsteady Manchester United back line for much of this campaign plenty of problems.

For much of the time, Murphy played with an intelligence and style which made you think that there might just be a grain of truth in those stories linking him with Chelsea and he came close to scoring during our best spell of the game just before half time when DeGea had to turn over his shot from the edge of the penalty area.

Decordova-Reid, just as he had been against Palace, was sharp and inventive and may have had a goal himself when he shot just wide in the second half. As for the enigma that is Zohore, he didn't set the world on fire and his two early shots were just what you would expect from someone with just one goal all season, but, again, there were more headers won than normal and he bullied both United centrebacks at times in the manner we saw from him during his golden period in 2017.

Although you may not have guessed it at times, our attacking quartet were up against defenders who are better than nearly all of those they will come across next season and, on this evidence, they looked like they would be a highly effective unit against Championship defences.

Now, it does need to be said that we lived dangerously at times and it was one of those afternoons when Manchester United probably ended up wondering how on earth they didn't score. Luck was on City's side when seventeen year old Mason Greenwood had a shot deflected a foot wide and then missed when unmarked some six yards out while the score was 0-0, but the latter effort would have gone in were it not for the intervention of City player of the season Neil Etheridge.

This was one of a string of fine saves made by the Philippines international (the best being to turn Greenwood's efforts onto an upright shortly after we had taken the lead) who, like Mendez-Lange was performing in front of meagre crowds, this time with Walsall, only two years ago. Although it is a something of a commentary on City's brief Premier League existence that their best player in both seasons has been their goalkeeper, Etheridge has really put himself right up there in any best ever Cardiff City free transfer debate with his performances over the past two seasons.

A word or two for our two central midfielders – if anyone still doubts what an influential and powerful presence Aron Gunnarsson has been in the past eight years at Cardiff, they need only look at the reaction of his team mates when he left the field for the last time in a City shirt on the hour mark to be replaced by Jazz Richards.

This isn't meant as a dig at him, but the fact that Richards was part of a central midfield pairing which saw out the last half an hour fairly comfortably to secure a win at Old Trafford suggests that the other member of our pairing must have been doing well and I thought there was a quiet authority and poise to Leandro Bacuna which was, again, suggestive of someone who can be an influence in the Championship.

So, great credit to City for ending their season in a manner which I certainly didn't see coming, but it does need to be said that, Etheridge's heroics notwithstanding, you had to rub your eyes at times to make sure that the eleven individuals in red were really the same team that went to France and beat Paris Saint Germain in a manner which had some suggesting they could win the Champions League – Mourinho's United team of the autumn were very ordinary, but Solskjaer's side looked worse than that this afternoon.

It's probably not fair on the man who is almost certainly Manchester United's best player when he wants to be, but Paul Pogba showed exactly why he is such a divisive figure in the lead up to our second goal on fifty four minutes. There shouldn't have been any danger to the home side when Lee Peltier took a throw in some thirty yards from the United goal, but Scott McTominay rashly dived in on Decordova-Reid to allow Josh Murphy to run into the penalty area in glorious isolation, go almost to the byeline and then calmly roll a cross over to Mendez-Laing on the far post who tapped in from about six yards out.

The reason Murphy was left to his own devices was that Pogba, who should have been marking him, just let him go as the throw in was taken. Whether he would have had the pace to keep up with a Murphy in full flight is debatable, but we never got the chance to judge because Pogba didn't move more than five yards from his original position – he had no intention of tracking Murphy's run – sorry, but I think that is criminal in the professional game, especially from such a high profile player.

United's ordinariness or the end of season nature of proceedings should not distract from what has to be a serious contender for the most notable league away win by City since I started supporting the club fifty six years ago though. After nineteen consecutive defeats against the current top six, City have their first points since the 2-2 draw at Cardiff City Stadium in November 2013 and those three take us on to thirty four points – four more and two wins more than in 13/14 and enough to confirm that, for what it's worth, the current side made a\ better fist of the top flight than the one from five years ago did.

With Manchester City's title winning 4-1 win at Brighton meaning the Seagulls finished on thirty six points, we end the season knowing that one more win would have kept us up. With margins as fine as that, there is bound to be much discussion about what could and should have been, but, on here at least, I'll leave that for another time for now.

Where City go from here is still very much up for debate because, although Vincent Tan indicated in the week that he wanted Neil Warnock to see out the final year of his contract, our manager did not confirm that he would do so when offered the chance to end the speculation in his pre match press conference.

With a meeting between the club's hierarchy and manager taking place tomorrow to discuss the club's plans for 2019/20, it seems our manager wants assurances as to what sort of budget he will have to work with.

Our manager claims we are a big club now and should act like one when it comes to transfer spending. Given my comment about "plucky little Cardiff City" last week, it goes without saying that I sympathise with our manager, but I do believe that there is more than just money for new players at issue here. There should be investment, which would not be great compared to what will be spent on new players, that would lead to improvements in the fields of youth development and player recruitment.

According to Neil Warnock, there is progress being made as far as the club having it's own training ground goes, but, to be frank, I would prefer money earmarked for that to go towards bringing in someone who would prevent the situation Chairman Mehmet Dalman admitted to when he was interviewed just before the Palace game. Mr Dalman conceded that the club's preparations for their return to the Premier League were not what they should have been – he said "I think we should have planned much, much more ahead than we have done. That's something we have learned".

Given the financial rewards for clubs competing in the Premier League every season and the boost the competition has had this week with four English clubs qualifying for the end of season UEFA tournament finals, that is a shocking admission which begs the question that, surely, we are not really in a situation where Neil Warnock does not know the sort of budget he will have to put together a squad which, hopefully, can take us back to the division we have just left.

I would suggest that our manager is, to some extent at least, indulging in some sabre rattling and is trying to wrest further commitments as to the ambition of the club. As is always the case at Cardiff these days, that depends very much on what Vincent Tan feels and, at the moment, it's very hard to guess what our owner is thinking.

On the one hand, you have the man who has been concerned with cutting cloth accordingly and getting the wage bill down and on the other you have the one who has written off in the region of 80 million pounds of the debt the club owed him in recent years by converting it into equity (it's also true to say that transfer spending in the past eighteen months has not been as low as it's been made out to be by those who prefer to portray us as "plucky little Cardiff City").

That conversion of debt to equity is suggestive of someone who is here for the long haul, yet there have been intermittent stories over the past year or so about our owner being willing to sell the club.

While I wouldn't quite rule out our manager (who has said today was the last time he would ever manage in the Premier League, but he would like one more go at his ninth promotion) walking away from City sometime in the near future, it seems more likely now that he will stay than it did when it was confirmed we were going down.

I'd like to close by making a suggestion that the greatest influence today's win might have is in the club's Boardroom. If you go back five and a half years to the appointment of Ole Gunnar Solskjaer and to a few of the comments you heard around that time, it's obvious that there are some Manchester United fans in our Boardroom (indeed, Mehmet Dalman brokered the deal which enabled the Glazer family to take control of the club) and I wonder if going to the home of the club they see as the example Cardiff City should aspire to and winning may whet a few appetites and get some people thinking that they want more of the same? Could those couple of Mendez-Laing goals have helped get Neil Warnock the sort of budget he is looking for?

Once again, can I make a request for support from readers by them becoming my Patrons through Patreon. Full details of this scheme and the reasons why I decided to introduce it can be found here, but I should say that the feedback I have got so far has indicated a reluctance from some to use Patreon as they prefer to opt for a direct payment to me. If you are interested in becoming a patron and would prefer to make a direct contribution, please contact me at paul.evans8153@hotmail.com or in the Feedback section of the blog and I will send you my bank/PayPal details.