City boss Neil Warnock proud of players and fans as he gets the perfect 70th birthday present.
Warnock continues to defy the odds and perform miracles after saving Cardiff from relegation from The Championship, then getting promoted to the Premier League and now back to back winning home games at the top level.
Neil Warnock:

"I was really proud of them tonight and I thought the fans were amazing. We talk about the fans this season, but the noise second-half was fantastic and I'm so pleased for them and everybody connected to the club – they all deserve a pat on the back.
"We were 1-0 down at half-time - I didn't think we deserved to be, but that's how it was. I thought, second half, we were on the front foot, most of the time, really.

"Wolves were the best team in the league last year and we weren't far behind them, so we've got to be pleased. We've improved our squad and we've got to improve again in January, but there's not a lot of difference between us and the teams below that top five.

"All my career I've tried to prove people wrong and this will still be the most difficult task, make no mistake – we'll not get carried away about winning another game because we've got to do a lot more."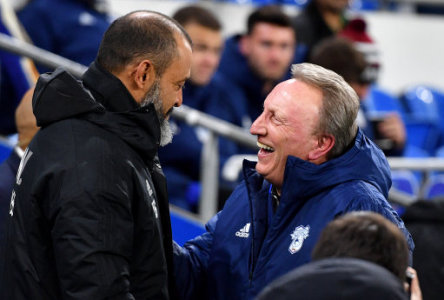 Last years drama now water under the bridge as Nuno and Neil seem to be best friends

Nuno Espirito Santo:

"I'm cautious of the moment we have now, it's a lot of games without a win, and knowing there's only one way - stick together and work harder.

"You can't buy confidence, but I think we were better than last weekend, I thought we were in control of it and there weren't many chances for them - although set pieces were always a problem.

"The first goal is too easy the way they scored. After that, it became very difficult. It's hard when you have the lead and lose the game. Usually it's one of the things that we preserve well, but we had chances to come out and our first pass was poor. We needed more possession."