Speaking about Jonathan Hogg's sending off David Wagner said

"First of all, I think it was soft but Hoggy has to solve this problem much more cleverly, he has to go away. Both players were aggressive but one player was more clever than the other one and the clever one was not my player," Wagner said.

"In this situation, you have to step away and not invite your opponent to have the opportunity to react how he reacted. Hoggy can solve this problem if he steps away from it, this is how I see it.

"It was unfortunate because he's an experienced pro and he played a very good game for 60 minutes but in this situation he has shown what he usually wouldn't."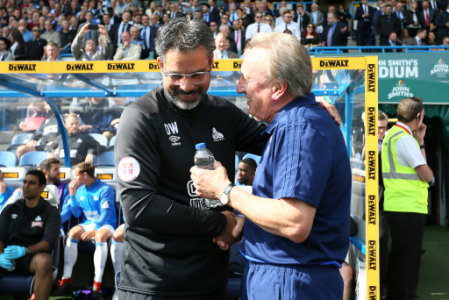 And on the performance in general?

"Overall I think it was a good point. For 30 minutes the players fought showed the right attitude in keeping the ball out of the net, we were lucky in two situations as well," he said. "I think 60 minutes long, we controlled the game, we were the only team who really wanted to do something offensively without really the end product

"We are far away from the peak of our performances at the minute but this is normal at this stage of the season. We now have the first point on the board and the first clean sheet which is important so we can take a lot of positives from this game.

"The character and attitude that the players were able to show in front of our home crowd is back again so there are a lot of positives even though we know we have a lot of work to do."

City boss Neil Warnock felt his team should have won the match but will not scoff at a point.

"I'm disappointed we haven't got the three points but away from home I suppose you've got to be happy with a point," Warnock said post-match.

"I think in the first half we were a bit nervous and you could tell it was a must-win for Huddersfield after the difficult start that they've had but we had a good shape and I just didn't think we had enough movement up front.

"At half-time, we changed a couple of things and I thought against 11 men we were a lot better, against ten we handled it quite well and should've scored a couple of goals really but that's been our season so far.

"We had good chances and we also had a load of opportunities to make a better pass in the box which we've been working on but it's difficult at this level, the top players create stuff out of nothing."

And on the sending off.

"When you watch it I don't think Hogg had any intention to do it. I think from where the linesman was from it probably looked like a head-butt," he said.