Swansea boss blames length of grass on pitch for poor passing performance!
Neil Harris
"It was blood and thunder at times. It was an electric atmosphere, our fans were tremendous. I really enjoyed it. I knew we'd be at it from the first whistle. Training this week has been excellent. First half I'm really pleased. We lacked a little bit of composure. Second half we started slowly. Swansea were better than us but once we got a foothold I thought we'd go and win the game.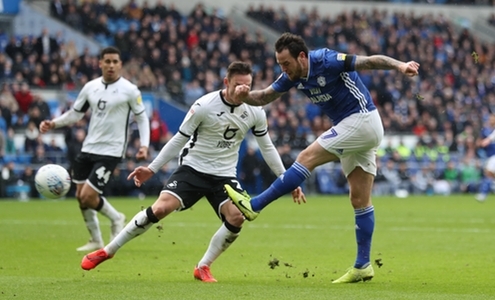 "I have to be honest, after losing the first game we certainly didn't want to lose back-to-back derbies. I'm pleased with the clean sheet. Then I look at our performance, did we handle the occasion? I think we did. Were there sustained moments? I think it's very difficult in derbies and I thought we did that well. When you've got people like Tomlin, Hoilett and Murphy, they can give you those moments.
"Over the course of the 90 I think we were the better team. I don't think there was a great deal in it. We had some good quality at times. We'll take the point and look forward to the cup game at Carlisle."
Steve Cooper
"We are frustrated because we came here to win, picked a team and game plan to win. There was no conversation about drawing, just wanted to win. First half we played some decent stuff on a tough pitch, the grass was long. That's fine, that's their prerogative.
"Stop-start game, a lot of aerial balls. It's a better point for them than us, that's for sure."
Cooper questioned the length of the grass on the pitch, citing it as a reason his side struggled to pass the ball in the first half.
"We were glad when it rained at half-time and quickened it up a little bit. We got caught with short passing a couple of times, I just thought it affected the game."