Cardiff's Steve Morison: "The sending off killed us but everything around that was really good, it was a positive performance. I thought it was a game we were in control of. They had a couple of chances early doors where we were sloppy but we got a deserved goal and we were on top at the start of the second half before the sending off.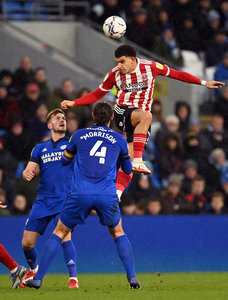 "We made a couple of changes to try to stop them from scoring for as long as we could. Unfortunately, the guy cuts in and scores a worldy so you take that on the chin. They're a really good team and they overloaded us in wide areas and they got their second goal and then their third. Credit to the lads, they showed that they're giving everything for the football club in the last 15 or 20 minutes. We got one and we could have come away with an unexpected draw."
Sheffield United's Paul Heckingbottom: "It was definitely a deserved win. I was angry at half-time because we had plenty of chances to be well in front but we came unstuck from their big threat.
"To go in 1-0 down at half-time was really disappointing. But I'm pleased with how we responded, how we moved the ball and they type of goals we scored."