Greece midfielder Manolis Siopis says he is living a "dream" at Cardiff City having left Turkish club Trabzonspor during the summer to play under manager Erol Bulut again.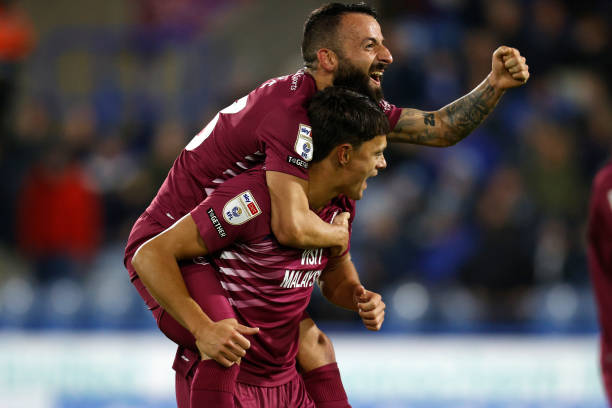 The 29-year-old says the Welsh capital already feels like home and is relishing the challenge.
Siopis said: "Erol Bulut gave me the opportunity to come here. Maybe if Erol was not here I would not be."
He also hopes to help the Bluebirds finish in the Championship top six.
Bulut's side are one place off sixth place before hosting Norwich City on Saturday, 11 November (15:00 GMT).
Siopis added: "Erol is a winner. Wherever he goes to a club he makes something. For example, when we worked one year together at Alanyaspor we made the best season in the history of the club.
"We got to the cup final, we got into Europe (as one of the top five teams) and next year he went to Fenerbahce."
Siopsis says he told Bulut he is living his football "dream" in the English pyramid: "I watched the Premier League and the Championship and now I am here.
"Before I came, I spoke with Erol and I said I have not just come here to have one good season and stay where we are.
"My target is always to win, I told him 'my target is to get to the play-offs'.
"You must have a target to achieve, that is my style. He said 'do you think I am here to make one good season?'
"We have this target and we are going well. The most important thing is we continue in this way, game by game."
Siopis made a financial sacrifice to join Cardiff - reported in the Turkish media at the time to total approximately £200,000 - to leave Trabzonspor last summer as a free agent, as the Bluebirds were under a Football League embargo and unable to pay a fee for any player.
The energetic midfielder had a year left on his contract with the Turkish giants and says he was given a "big offer" to stay there.
But he said: "It was my dream to come here and if I don't feel motivated to play at one club I am done and I cannot play there. I had this opportunity to come here with Erol and I took it."
Such was the sensitive nature of the transfer, Siopis did not even inform his fellow countryman Dimitrios Goutas, who had joined Cardiff a few weeks earlier from Sivaspor.
"We were in the young national team together and he didn't know anything. I could not say to Dimi I had spoken to Cardiff City," Siopis said.
"When he saw me in the facilities, he said 'why did you not call me?'"
Now Siopis believes Goutas is playing the best football of his career at the heart of the Cardiff defence, while the industrious midfielder has become a fans' favourite at Cardiff City Stadium.
Asked about the difference playing in the English second tier to Turkey's top league, Siopis cited the "rhythm" of the game, which suits him, along with the atmosphere at games.
"The style is similar, but it is more physical. The rhythm is higher than in Turkey. My style of play is like this, so I enjoy it," he said.
"What I cannot explain is the atmosphere here. The people watch the football in another way. It's not the same in Greece or in Turkey."
With domestic considerations also part of his decision to switch, Siopis says his family enjoy the many parks in the capital and the club is to his liking, too.
"The team also helped me because of the facilities they have, the fans support the team and are near to the team. All this atmosphere I like very much," he said.
Siopis has been helped by a Greek community which he says numbers around 2,000 in the capital, having also discovered a favourite taverna for authentic Greece cuisine.
"I spoke to this guy there and now we speak every day, he is like a friend," he said.
If Siopis helps Cardiff City achieve that top-six target, that will surely not be the only restaurant where he will be welcomed in the capital.