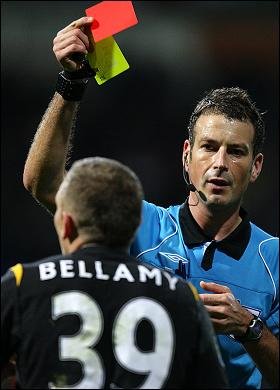 From Champions League to League One he has been in control of some high profile matches including the Manchester derby where City won 6 - 1 at Old Trafford.
In his 25 games this campaign he's issued 76 yellow cards and 6 red.
Clattenburg's first Cardiff City game was a 2 - 0 Bluebirds win at Chesterfield in 2002. Goals that day came from Leo Fortune West and Andy Campbell.
We then have to jump forward five years to 2007. Cardiff 1 - 0 Leeds. Incredibly City ended this game with 9 men. Michael Chopra, who scored the only goal, also saw red. Still enough to beat Leeds though.
And in the past he's sent off Craig Bellamy (right)
And that's it. Clattenburg has referee'd just two Cardiff City games.