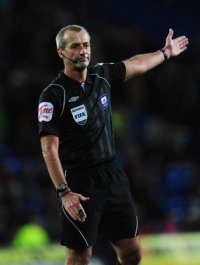 So far this season he has taken charge of 10 games across all levels. From League 2 to a World Cup qualifier.
His last match was the 2 - 0 win for Arsenal over Liverpool at The Emirates last Saturday.
He has issued 32 yellow cards so far this season and no red cards.
The World Cup game was an 8 - 1 win for Holland over Hungary.
From the historical records it seems his first time in charge of a City game was the 2 - 1 FA Cup defeat at Highbury against Arsenal in 2006. Just looking at the teams that day Cardiff included Jeff Whitely, Kevin Cooper, Neal Ardley and Neil Cox while Arsenal boasted Bergkamp, Van Persie, Pirez and Reyes.
How on earth did we keep that down to a single goal defeat?
Aston Villa v Cardiff City
Saturday 3:00pm.