Less than 12 months after being relegated with Plymouth Joe Mason delivered himself to a worldwide audience with the opening goal of the Carling Cup final.
And now he's aiming at getting the Bluebirds promoted.
"There are a lot of positives to be taken from this, especially going back into a league campaign. We've got no distractions now and we're going to try and get promoted," he said.
"You want to play against the best players and everything at Cardiff is built to play in the Premier League, going that extra mile and we will get there.
"West Ham are coming next Sunday and that's all we can think about now. There are no distractions. There are eight games in March and we've got to try to get on a good run and get up that league."
And on his Wembley goal?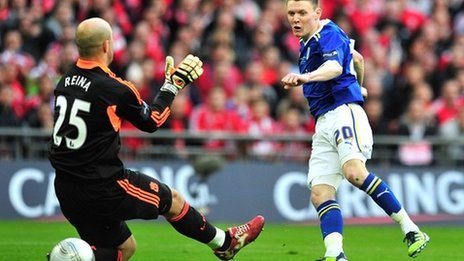 "I'll remember that until the day I go," he said.
"I couldn't imagine, when I was playing for Plymouth Argyle last season, that this year I'd be playing and scoring at Wembley against Liverpool - the team I support. It's mad.
"It's really mixed emotions. To get a goal at Wembley is massive, I can't even explain it, but to lose the game is devastating.
"The manager tried to get us up and said how proud he is of us, but we know we could have beaten Liverpool and that's a hard thing to take.
"You think you're in with a shout, especially with the penalties we've been taking in the previous rounds which have been very good," he said.
"But we're playing against Premiership opposition so they're used to playing in massive arenas like this.
"It's roulette at the end of the day, you never know who's going to come out on top."