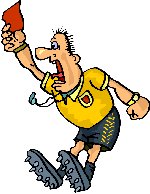 He is assisted by Duncan Street and Anthony Backhouse.
The Fourth Official is Paul Tierney.
Simon Hooper from Wiltshire is in his 5th season a Football League referee. His first League 2 game was a 1 - 0 win for Shrewsbury at Exeter in August 2008.
Since then he's remained a Football League referee with Championship matches under his belt as well as regular gigs in League 1 and 2.
So far this season he has officiated 17 matches and has issued 37 yellow cards and 2 red.
He was in charge of City's 2 - 0 win at Millwall in September. Last season he was the referee for City's abysmal 3 - 0 defeat at Ipswich.
Oher noticeable City games officiated by Mr Hooper was a 3 - 1 win at Doncaster and a 6 - 1 home win over Derby.