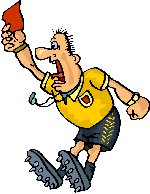 Experienced referee Mark Halsey will take charge of City's game at Brighton on Tuesday evening.
He will be assisted by Steve Child and Ronald Ganfield with Gavin Ward the 4th official.
Mr Halsey referee'd 33 games last season without sending anyone off. He only issued 75 yellow cards. Two of those games involved Cardiff. The 1 - 1 home draw with Leeds and the 2 - 1 defeat at Leicester City.
In August 2009 it was announced that Halsey was suffering from lymphoma of the glands and had undergone surgery to remove a cancerous tumour in his throat. He has since recovered and is back refereeing at the highest level.
He was 4th official at today's Wigan v Chelsea Premier League match and Brighton v Cardiff on Tuesday will be his first match as a referee this season.
His first season on record officiating a Cardiff City game was a 2 - 0 defeat to Millwall in the FL Trophy in the 97/98 season. Later that campaign he was in charge of Cardiff 7 - 1 Doncaster at Ninian Park.