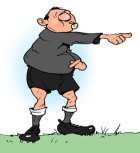 His assistants are W Smallwood (Cheshire) and P Thompson (Derbyshire).
The Fourth Official is D Phillips (FL ref/West Sussex).

2010-2011 Stats for Mr Mason: Games 28; Yellows 111; Reds 5.

Recent Games Officiating City:
Championship; Sat Sept 25th 2010; Cardiff C 2 - 1 Millwall
Championship; Sun Mar 15th 2009; Bristol C 1 - 1 Cardiff C
Championship; Tues Nov 6th 2007; Cardiff C 1 - 1 C Palace
Lee Mason's last appointment was the Blackpool v Arsenal game on April 10th. Also one of his red cards this season came at the CCS when Millwall's Liam Trotter was sent for an early bath.