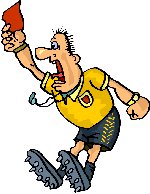 Just two days after sending off Mario Balotelli at Anfield Mr Atkinson is in charge at Cardiff City Stadium for tonights Carling Cup clash between Cardiff and Blackburn.
It's the first time Mr Atkinson has taken charge of a City game since a 2 - 2 draw away at Swnsea in 2008. That day he sent off Steve McPhail and Leon Britton. Alarmingly this season Atkinson's red card has been in constant action.
From 16 games officiated this season Atkinson has issued 7 red cards. That's nearly one every two games. Quite an achievement.
He is assisted this evening by John Flynn and Andrew Garratt. Peter Walton is the 4th official.