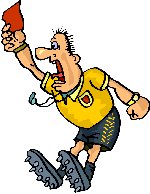 He is assisted by Adam Matthews and David Woolford. The Fourth Official is Richard Martin.
Mr Stroud's last City game was the 5-4 defeat at Charlton. His last game was the 1-1 draw between Forest and Bolton this past weekend.
This season in 25 matches he's booked 90 players and sent off 4.
History shows his first Cardiff City game was a 1 - 0 defeat for the Bluebirds at West Ham in 2005.
Perhaps a little more alarmingly he was the referee when City lost 6 - 0 at Preston when they did a 'Cardiff' in 2009.