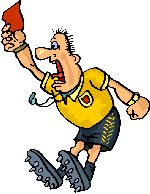 He will be assisted by Andy Hendley and Brett Huxtable and the Fourth Official is Timothy Wood.
Ilderton last took charge of a City game when the Bluebirds beat Ipswich at Portman Rd earlier this season.
In 23 games this season he's issued 75 yellow cards and 4 red.Two of the red cards were in his last outing when he sent off two Rotherham playeres in their 2 - 0 defeat at Burton last weekend.
His first Cardiff game was a 3 - 1 Cardiff win at Coventry back in 2003.