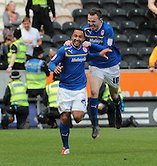 Maynard has had limited game time this season after recovdering from an injury that saw him miss most of last season.
He has come off the bench several times in the Premier league this season and started the two Capital One Cup games, scoring in the first away at Accrington.
"Nicky is at the stage of his career where he wants to play regular football again after his injury last season," Wigan boss Uwe Rosler said.
"He wants to prove a point to himself and other people.
"That's a perfect scenario for us; it matches our ambitions. We want to prove a point, we want to go up, we want to go into the play-offs and I think we can give him the platform to perform again.
"I will be patient with him because he has not played in a while. But he's fit and he's ready to go."
Good luck to Nicky and hopefully he can get a decent run of furst team football.