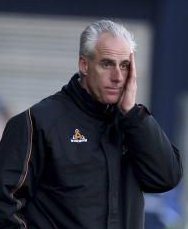 "We've started games dreadfully," McCarthy added.
"It made things very difficult. The second goal was a fabulous finish I have to say, but we were in good possession and we gave it away and got done again."
He added: "We never really scratched the surface, we were hopeless. That was as bad a performance as we have had in a long time."
Jones, on the other hand, praised the professionalism of his team.
"I thought we started brightly. The first couple of minutes we made them make one or two mistakes and that set the tone for the first 45 minutes.
"We were in their faces, we didn't allow them to get the ball down and play, and we dictated the tempo of the game.
"In the second half it was all about being professional and doing the dirty part of the job, making sure they didn't score. It was quite boring really but that's what you have to do."