He managed the Sky Sports interview but was gone before he was due to meet the rest of the media.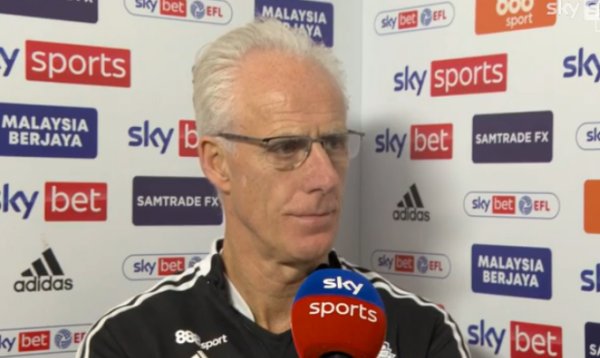 Mick McCarthy
"It is looking like it is very difficult to perform. We didn't start particularly well - it was a bitty game - but the penalty, I'm not certain it was a stonewall penalty. But we get it given against us. We had a go just after half-time and I said: 'Let's go and see if we can get something out of it. We didn't. We had our chances and conceded another poor goal.
"If anybody thinks I send them out to be as benign, as static and as poor as we were in the first half, they want their heads seeing to. That has never been the case, that has never been my teams. I said to them: 'If it is going to be my last game, have a right go at it and then at least, if I do, I can at least walk out and think that we did. We did, to a point, and then it petered out, unfortunately."
Neil Warnock
"We won that game because of the 10 minutes after half time when we were right under the cosh and put heads and bodies [on the line] and protected our goal. That's what I love to see. I said to that lads that I know we have ended up winning 2-0, but that 10 minuts won us the game, I thought.
"We have created a lot of chances in the last few weeks, but that's us and we don't make anything easy. I thought we played some good stuff at times today and I was pleased for them. I was pleased for Sol as well."