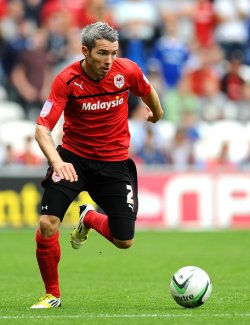 Kevin MacNaughton, back in the side for the past couple of matches, has spoken out about his contract situation. The Scotsman is in his seventh season at Cardiff City and as yet has no offer on the table to extend that further.
"I hope to stay. I would love to stay, but the decision is up to the club really. I would sign in a heart-beat," said McNaughton.
"I would be delighted to see the club progress. It's part of football that sometimes things don't work out for you.
"I could never be disappointed if this club gets promoted. I would be absolutely delighted. If I have to move on at the end of the season then I have to move on. That's just a part of life and you've got to get on with it.
"I made the decision to leave Aberdeen and they were desperate to keep hold of me. Now I'm experiencing the flip-side of it in that I'm desperate to stay, but I might not be here. That's football and you've got to take the highs and the lows. I would not be begrudging anyone promotion here.
"There's been no talks about a new deal at the moment so I am just keeping my fingers crossed. I would love to stay at Cardiff, but I'll have to see what happens.
"I'd definitely like to see out my career at Cardiff, my children were born here, it's my home really, but the way the club is progressing, you can't always hang on to it. Sometimes you have to move on just to get playing regularly. I've not spoken to the manager about it. I've just been busy grafting away to try to get myself back in the team. That's the main priority right now."