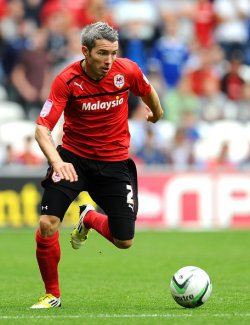 "The gaffer (Malky Mackay) has brought the right type of player to this club. The work ethic is different class. The players, each and every one of them, gives his all in training sessions.
"It hasn't been like that all the time since I have been here, but there is no doubt the whole squad is up for it big time this season. We have played who are prepared to work hard for each other and have the ability and quality to produce.
"They are players Cardiff supporters love because they work hard every step of the way.
"Look at our win against Crystal Palace when we came back from a goal down. A couple of years ago we would have probably drawn or even lost that.
"Now there is a bit more backbone to the team, grit and tenacity. The task for us now is to keep it going. It's been great so far, but there is a long way to go, starting against Millwall at home this afternoon.
"I came down to Cardiff with the ambition of helping this club to be promoted and that's still the target. It's been a rollercoaster and it would be sweet to get over that finishing line.
"I have loved every minute and would not change that decision to sign for Cardiff.
"This season is potentially the best of all, for supporters and everybody at the football club. It would be great for the fans and the city for us to get over the finishing line."
McNaughton started in the win against Palace on Boxing Day, did an outstanding job marking England international Wilfred Zaha and completed 90 minutes for the first time in more than two months.
"I woke up the morning after we played Palace and felt like I had been hit by a bus," said McNaughton. "I felt the effects, but I've recovered now and am ready if needed.
"It's been a difficult time because I haven't been playing as much as I would want. I came in against Peterborough but didn't play particularly well, I was feeling the pace a bit.
"After that match I was feeling sorry for myself, but next day we came into training and I knew there was no point in that. I got on with it, trained hard and worked towards my next chance.
"I felt better against Palace, a lot sharper.
"It's been tough to deal with not playing regularly. Injuries killed me at times. I worked my socks off to get back and then picked up stupid injuries.
"It's the longest time in my career where I have been fit and not playing, but I am part of what is happening here and I will keep working to earn a place in the team.
"I've been here almost seven years and when I came the main aim was to help Cardiff City earn promotion. It's great to see us on the right path. The job is far from done, but we are moving in the right direction and every player here will give it everything to stay on course."

Comments from Wales Online http://www.walesonline.co.uk/footballnation/football-news/2012/12/29/91466-32508530/?#ixzz2GREewMgK