First part is the note sent out to Trust members. Underneath the dotted line are the thoughts of Paul Evans - http://mauveandyellowarmy.net/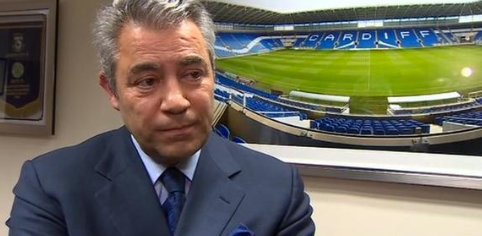 "Note Of Meeting With Mehmet Dalman 23 October 2021
Dear Member,
Representatives of the Trust, Supporters Club, Disabled Supporters Group plus other fans representatives were invited at short notice to a meeting with Mehmet Dalman, Ken Choo and other club representatives at 11.00 am on the morning of the Middlesbrough home game. The meeting was conducted primarily by Mehmet with occasional contributions by Ken. Given the dire form of the team at the moment it was a sobering experience with further bad news about the financial situation the club finds itself in.
In terms of overall finances. MD stated categorically that there would be no transfer funds available for not only the January transfer window but also next summer. As a number of players' contracts expire this summer it will be challenging for the incumbent manager. MD stated that Vincent Tan is looking to restructure the finances of the club although specific detail of this proposal was not forthcoming. MD reiterated statements he has made in the past that VT has turned down offers to buy the club and restated VT's wish that, if he does sell, he will wish to part with the club with it in a better position than when he acquired it. MD emphasised throughout how financially reliant the club are on VT.
The future of Mick McCarthy was discussed at length. Questions from the floor were raised about the possibility of a Director of Football. MD stated that it is an idea which he favours and has put the suggestion forward to VT who, after consideration, turned down the proposal. In terms of any decision regarding the future of Mick McCarthy he emphasised that such a decision would be solely in the hands of VT and no-one else. Given that we now know that the Club and MM have parted company, VT's decision must either have been pre-prepared dependent upon today's result or sought and communicated very quickly. It was suggested from the floor that, given the success we are currently experiencing at U23 level, Steve Morison could be appointed as an interim measure whilst the club sorted out a long term replacement. MD pointed out, given the real risk of relegation, the inherent risks of such an approach. As we now know that is exactly what has happened so we can only assume that the club has risk assessed that approach.
MD gave his assessment of the legal cases currently facing the club. In terms of the court case currently taking place in Cardiff re the arrangements for the fatal flight carrying Emiliano Sala. He commented on the fact that the evidence was confirming the link directly from the deceased pilot to Henderson to Willie McKay who was acting on behalf of Nantes FC. MD stated that, should the club's appeal to the Court of Arbitration for Sport (CAS) be unsuccessful, the possibility then would exist for an action in the French courts against Nantes FC for the negligent flight arrangements. Interestingly, MD stated categorically that both he and KC were opposed to the transfer of Emiliano Sala and that Neil Warnock had gone over their heads and appealed directly to VT persuading him to approve the transfer which he duly did. MD was asked from the floor why the club was dealing with McKay who had lost his status as a football agent and had also been declared bankrupt. MD's only answer to that question was that the world of football was full of people like him.
The Michael Isaacs case concerns the dilution of his shareholding by VT's significant conversion of debt to equity. MD was somewhat dismissive of this action in that Michael Isaac's valuation of his shareholding would vastly overvalue the club as an entity, mostly a loss-making entity !
In terms of the Sam Hammam case. He implied that Peter Ridsdale was acting in concert with Sam Hammam against the club. If any EFL club are involved in significant litigation the EFL requires that is informed of developments. MD suggested that Ridsdale's position on the board of the EFL could lead to a conflict of interest.
In response to a question from the floor MD confirmed that he receives no salary from the club in his position as Chairman.
Fans present were critical of the level of communication with supporters and MD mentioned the possibility of quarterly online meetings. It was also suggested from the floor that an invite be sent to social media outlets such as those who run fan messageboards so that they receive factual updates rather than misleading interpretations that often get posted.
One of the consistent themes throughout the meeting was the absolute control of VT over all matters of significance. MD described the Cardiff City Board as being "unique" in that it dominated by the owner and (virtually) 100% shareholder. As I have already mentioned MD stated that change of manager decision was in the hands of VT, all major decisions require the rubber stamp of VT even down to style of football.
Apparently VT favours the "direct" style of football which has been a feature of our play in recent times. The fact that this contrasts significantly with the style of football played by our successful Development teams and may risk us not hanging on to our most promising players was pointed out from the floor
Keith Morgan
Chair"
------------------------------------------------------
I find this an astonishingly frank document which raises a number of questions, for example;-
Was our Chairman telling the truth?
Unless or until someone in a position to be able to dispute what was said comes forward, I don't think there's any question to be answered here, the assumption has to be that what Mr Dalman says is the truth.
What does the stuff about our finances mean?
When it comes to financial matters, as someone whose interest in such things stretches only to how the limited amount of money I have can make make myself and those dependent on me as comfortable as possible, I'm the last person who should be attempting to answer that question.
However, I can't help thinking people far more knowledgeable about such things than me would struggle to come up with an answer, because there's not a great deal being said and what we do learn only invites more questions.
The point has been made a few times that Vincent Tan's business empire has taken something of a hit during the pandemic has been made fairly regularly down the past few months, so the sort of cost cutting summer City have just gone through did not come as a total shock, but why the need for such drastic expenditure cuts in January and through next summer as well?
Also, what is meant by "refinancing" and why is it deemed necessary that additional funding has to be provided through that channel? Furthermore, how on earth will this refinancing enable Vincent Tan to have the club in a better position when he leaves than when he acquired it?
Is there an admission in there that all of the senior players who are out of contract this summer will not be offered new deals?
The answer to that would appear to be yes. Presumably, this will not come as a total shock to the men concerned, because, surely, they will have been made aware of this some time ago? That being the case, it offers a possible partial reason why the performance of so many of the older players has been so disappointing this season and it also asks serious questions as to what we can expect from those players over the coming months – even in the rare event of the Board getting the decision right regarding the new manager.
Why has Mehmet Dalman rubbished the idea of us having a Director of Football before when he now says he's in favour of us having one?
I can only assume that he was representing the views of Vincent Tan in his previous utterances on the subject, but then why does he choose now let people know his own thoughts on the subject?
A theme throughout the notes of the meeting is the Chairman's desire to get over the point that our owner is in total control of the club. However, this is not the only time when Mr Dalman talks about his view being different from Vincent Tan's and through them all I find myself asking "Why now?". The only answer I can think of is that it's an attempt to avoid blame from supporters and, presumably, that applies to Ken Choo as well, because, although he didn't have a great deal to say at the meeting apparently, his presence would appear to indicate backing for what Dalman was saying.
Emiliano Sala questions.
I'd heard the line about Neil Warnock going over the heads of Messrs Dalman and Choo in persuading Vincent Tan to agree to the Sala signing a couple of times before in 2019, so it doesn't come as a total shock, but it is an explosive allegation which also backs up a few rumours I'd heard regarding our former manager's relationship with the people in the club hierarchy he was most frequently in contact with. However, I suppose that it is something of a side issue to the financial implications for the club in the event of the appeal to the Court of Arbitration in Sport verdict regarding City's liability regarding the £15 million transfer fee being turned down.
From what Mr Dalman had to say, it appears that an unsuccessful appeal will not be the end of this matter which has now dragged on for close to three years, I suppose a further case in the French courts makes sense from the club's viewpoint, but it does leave a bit of a sour taste in the mouth.
I'd also just add that Dalman's answer regarding the club's willingness to work with the bankrupt and "disbarred" former football agent Willie McKay comes over as terribly weak.
Does the possibility of Peter Ridsdale acting "in concert" with Sam Hammam sound plausible?
We're talking about a long time ago now, but, judging how relations were between the two men in the mid to late noughties, my answer would be no – that said, it does seem fair to raise the matter of a conflict of interests on Mr Ridsdale's part.
Did Vincent Tan know about some of the revelations by his Chairman beforehand and how would he feel about them being made now?
Strangely enough, I'd only speculated about the possibility of Vincent Tan being the driving force behind the miserable, outdated, cumbersome and ultimately unsuccessful style of football we've been playing for the last ten years or so on a City messageboard last week – it all makes sense when you consider previous comments from our owner about goalkeepers not shooting etc! Again though, the phrase "blame avoidance" springs to mind when considering what our Chairman has to say.
That said, it does paint a bleak picture which, together with the comments on a Director of Football, leaves me feeling that little is going to change in coming weeks regarding the style of play and the type of manager we go for (Tony Pulis would complete the set wouldn't it).
Moving on to the questions I asked above, I must admit that I find it hard to believe that Vincent Tan would be overly pleased about what Mehmet Dalman had to say about him yesterday because it hardly paints him in the best light does it.
It rather raises the question as to how relations are currently at the top end of things at the club and it will be fascinating to see if Vincent Tan has anything to say in the coming days about the Chairman's comments – if he hasn't, then I suppose it means he's alright with them.
Whatever the answer, you can only think that the normal level of decision making and general management of a modern day football club that we've seen from the Cardiff hierarchy in the last decade will, almost certainly, not be enough this time – I believe more of the same sees us relegated this season