http://mauveandyellowarmy.net/
Especially coming on the back of a 0-0 draw where we barely ever looked like scoring, last week's 1-0 defeat at Birmingham for Cardiff City left me concerned that our superb start to the season had run out of steam and we were into a phase whereby a top two finish would look, increasingly, unlikely and the talk would shift to whether we had it in us to squeeze into the top six come May.
That may still happen of course, but yesterday's 1-0 win at the Riverside Stadium over Middlesbrough was, for me, one of those results which sends out a signal to the rest of the Championship that, despite the occasional recent wobbles, this Cardiff side won't be going away – they have it in them to be up there right to the end.
I'd rate our earlier wins over Villa, Wolves and Leeds as other games which forced our rivals to reappraise their opinion of us somewhat, but, while the performance, certainly in an attacking sense, at Boro wasn't as eye catching as what we produced in that trio of matches I mentioned above, I believe it could be argued that, in it's way, it was the best of the lot.
Yes, the doubters will look at an away win at a side that now find themselves in the bottom half of the table and are without in a win in five league games and say it is exactly the type of fixture a team in our position should be winning and, at face value, they are right.
However, those stats don't tell the whole story about Middlesbrough. The first week in August always sees pundits of all sorts of ability giving their predictions for the Football League season which kicks off on the upcoming weekend and this year it seemed that every other one of them, at least, was saying that Boro would win the Championship – those that weren't tipping that outcome, tended to be of the opinion that they would be finishing second or, at the very worst, be good for a Play Off spot.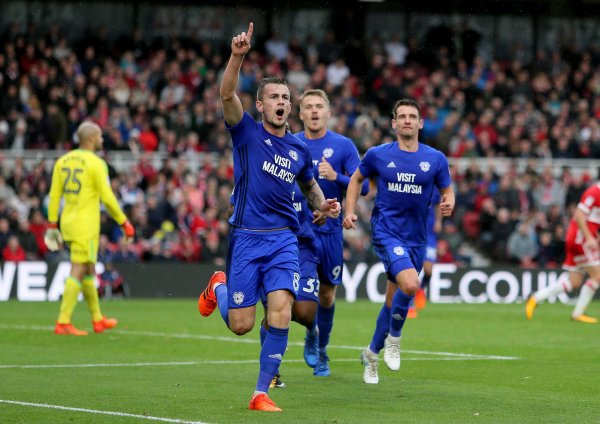 On one level, the faith being shown in Boro made no sense. After all, City are generally reckoned to have made something of a pig's ear of their season in the Premier League back in 2013/14 as they finished bottom of the table with thirty points and yet Middlesbrough ended up with two points less than that last season . Further examination shows though that the Teesside club had the ninth best defence in last season's Premier League and their problems lie almost entirely with their inability to be able to find the net enough – they were the lowest scorers with twenty seven from their thirty eight games.
In a way, Middlesbrough only did in the Premier League what their promotion in 15/16 suggested they might, because it was earned on the back of the best defensive record in the division, while they scored fewer goals than anyone else in the top six.
However, with a bigger transfer budget than any of his Championship rivals had at their disposal, new manager Garry Monk set about rectifying those problems at the top end of the pitch during the summer with tens of millions being spent on four new strikers, as well as reinforcements at the back and adding Johnny Howson to a central midfield unit that had already proven themselves at this level a couple of seasons ago.
I must admit that Boro's squad as it began life back in the Championship looked better to me than the one they had in the Premier League and I expected them to have few problems adjusting to life again at the lower level.
Last season saw Aston Villa spending the same sort of sums as Boro did during the summer, but their subsequent lack of impact did not come as a shock to many because, despite the addition of a few of the sort of doughty competitors you always need in this league, they had looked wholly unsuited to what was coming in the Championship as they slid to their inevitable relegation and, if anything, their transfer dealings in the summer of 2016 only added to that feeling.
Middlesbrough didn't, and still don't, have that same appearance of frailty and, in some respects, naivety to them that Villa did though – I look at them every weekend and think this will be the week when it all clicks into place. I'm still pretty sure it will happen for them sometime soon and am so pleased that it didn't against a City team that seemed as vulnerable as they have been at any time this season as yesterday's match got underway.
It wasn't only a run of just two wins in seven matches and the way that we had gone off the boil so much in an attacking sense in our precious two fixtures which added to that vulnerability though – there was also the absence through injury of, arguably, our two most influential players of last season in Aron Gunnarsson and Kenneth Zohore.
Apparently, they are both suffering from similar type ankle injuries which Neil Warnock seems confident will not keep them out for much longer. Of course, Gunnarsson had not been in the starting line up at Birmingham as he came on in the second half after a period out with the injury which had kept him out of the Leeds and Derby games at the back end of last month, so it wasn't a complete surprise to see Neil Warnock keeping changes to a minimum despite a couple of unconvincing showings by his side either side of the last international break.
An overdue first league start for Danny Ward in place of Zohore was the only change in personnel from Birmingham, but, tactically, there was an alteration which I, for one, was very happy to see as Sol Bamba dropped back to his normal centreback role alongside Sean Morrison and Bruno Manga.
Nowadays, there is a tendency to say that sides are playing a 4-3-3 formation when it's actually more like a 4-5-1 – certainly, the sides which play that way are far more likely to have a striker and two wingers than three centre forward types and this just reflects a trend that has been going on for decades that sees the number of specialist strikers a team fields decreasing.
By the same token, the temptation in the media, and probably, among supporters is to categorise a three centreback system as 3-5-2, with a justification of it's use being that it's a way you can can play with two strikers while also maintaining a central midfield presence and sufficient centrebacks to cope with the sort of weaknesses in those areas that a bog standard 4-4-2 may create.
However, increasingly, it seems to me that the three centrebacks in a "3-5-2″are being joined by wide players that look more like specialist full backs than the wing backs that system is associated with – certainly, when one of your "wing backs" is someone with the strengths and weaknesses that a Lee Peltier possesses, it seems a waste to use him further forward if it means his defensive strong points are going to be nullified somewhat.
So, I'd say our back three was actually more like a back five yesterday and when you throw in the debate whether our normal 4-3-3 is actually a 4-5-1, then you could make a case for saying we played a 5-4-1 system yesterday.
That sounds very defensive, but, as long as Junior Hoilett and Nathaniel Mendez-Laing were able to ensure Ward did not become isolated, it strikes me as being an eminently sensible approach for a visit to a team like Middlesbrough, even if it did place a huge workload on Joe Ralls and Craig Bryson, with the latter having less opportunity to spring forward than normal.
I say this despite the fact that Boro have been in the habit of conceding early goals lately – maybe if Zohore had been fit, we might have still included Ward and had a go at them in the opening stages, but, somehow, I doubt it. The most important aspect for me yesterday was not to lose and setting up to try and ensure that happened made the most sense – especially at a venue where there is that sort of atmosphere that is a mixture of expectation and frustration as a season that isn't turning out as anticipated makes the home side more open to counter attacks the longer the match stays at 0-0.
City were not entirely on the back foot though. Sometimes I see the likes of Zohore and Hoilett sprinting forward to try and put the opposition goalkeeper under pressure as he receives a back pass and think to myself what a waste of energy, but that is to forget that the latter has a goal to his name this season precisely because he did that and yesterday he was at it again early on as he forced home keeper Darren Randolph into a hurried clearance which was half blocked into the path of Ward, standing totally unmarked on the edge of the penalty area. The striker had to wait for the ball to drop, but he got away a well struck left footed effort, only for Randolph to atone for his error by saving with his feet.
That was as close as either side got to scoring in the first half and, although the home team had more of the pressure and possession after the break, it was City that tended to carry the greater goal threat – notably when Manga brought the ball out from the back to feed Ward who shot narrowly wide and Bamba saw his appeals that his effort following a Hoilett free kick had crossed the line before Britt Assombalonga cleared turned down by video technology.
Last season there was much frustration at the number of points City dropped thanks to goals conceded late on, but we moved further into credit in terms of points won as against those lost this time around, when we turned one point into three on eighty four minutes. Mendez-Laing became more of a factor the longer the game went on and he was able to get to the bye line and fire in a low cross that was almost turned in on the far post by Peltier of all people. However, when the ball found it's way back to the winger, he was brought down by what was a typical forward's tackle by home sub Adama Traore for a penalty so obvious that even Garry Monk admitted it had to be awarded.
Ralls went on to make it five from five with his penalties following his most convincing spot kick yet and such was the vice like grip a City defence, which now has the best goals against record in the division, was able to keep the expensive home frontline in throughout, there was little chance of Boro finding an equaliser in the short time remaining. Indeed, there were better opportunities for City to extend their lead, most notably when Mendez-Laing burst past a couple of defenders and put over a cross which Hoilett really should have done more with than head narrowly wide.
There was a first sighting of Callum Paterson in action for the first team as he appeared as an eighty ninth minute sub for Mendez-Laing in the eighty ninth minute and Omar Bogle came on for Ward shortly afterwards as City successfully ran the clock down to record a fourth away win of the campaign. Home wins for leaders Wolves (by 3-2 over high riding Preston) and third placed Sheffield United (2-1 over Reading) brought home how important Ralls' goal was and although we're still showing anything like our early season potency going forward, we remain one of a top three that has opened up a handy looking four point lead over the rest and wins in our two remaining games this month (both of them are at home) would leave us well ahead of the sort of target Warnock set for us going into November.
A few hours earlier, I had seen our Under 18s entertain Colchester at Leckwith in a game which was more watchable than it might have been, given the strong wind and driving rain much of it was played in.
City were able to extend their winning run to three as they continue to recover from a slow start, which saw them draw three and lose three of their first six matches, this season with a 3-0 win. The margin of victory flattered City somewhat I thought against opponents who could, and should. have got one goal for all of the effort they put in throughout.
City enjoyed most attacking success down the flanks in an even first half and almost took the lead when Isaak Davies missed his kick from a low cross by Sion Spence from the left and the ball fell to right back Connor Davies whose shot across goal struck the inside of the post and flew clear.
Colchester had fashioned one or two opportunities for themselves despite playing into the elements, but they were unable to reach half time all score because in a move which eerily resembled the one described earlier, Spence was able to get to byeline and, this time, his cross was so good that Davies barely needed to break his stride as he side footed home from about eight yards out.
The first quarter of an hour of the second half saw City make the game safe with another couple of goals – for the first, Spence timed his run perfectly to fasten on to a long ball played into his path only to be taken out by keeper Phillips for an even more obvious penalty than the one given to us at the Riverside Stadium a few hours later.
Phillips was, rightly, given a yellow card for his foul and, after a couple of minutes treatment, Spence confidently slotted away the spot kick in the manner you'd expect from someone who had scored a hat trick in his last game.
For me, City were winning the game now because they had that little bit more quality going forward than their opponents did. Much of this superiority was down to Spence who, freed from defensive duties by effective central midfielders Sam Bowen and Keenan Patten, was able to turn in a "proper" number ten type performance playing just behind Isaak Davies.
It wasn't to be Davies' day in front of goal yesterday, but he could claim some part in the third as he occupied defenders to help Spence split the Colchester defence again, this time slippeding in Keiron Evans, who calmly rolled the ball past the oncoming Phillips to make it 3-0 with less than an hour played.
Colchester could just have caved in at this stage, but their response was impressive as they put the City defence under pressure which they coped with reasonably well on their way to a second consecutive clean sheet which was confirmed when George Ratcliffe did well to keep out a deflection off Bowen from close in.
So, all in all a good day for City and, to end with the first team, it was illuminating to hear in the press conference afterwards that Middlesbrough had only managed to beat Neil Warnock managed sides four times in the thirty seven years he has been in management. Little bits and bobs like that only tend to confirm why we are in something like unchartered territory this season. This is the first challenge for a top six finish when we've had with someone like Neil Warnock, with his seven promotions, in charge – he knows what he is doing and people like me, who start having doubts after a couple of sub par showings really should have a bit more faith!