From the moment Neil Warnock was appointed Middlesbrough manager to replace Johnathan Woodgate, this was the match many Cardiff fans, myself included, were dreading most in our run in – this was the game in which our ex manager would take great delight in putting the kibosh on our Play Off hopes.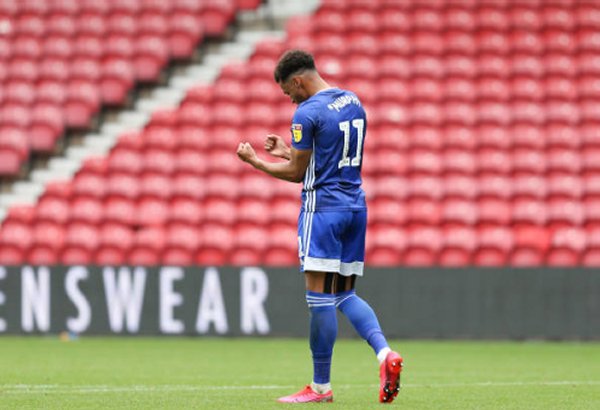 Josh Murphy pleased with his two goals
Never mind the fact that, before kick off at least, Boro looked all but safe from the drop or that we had managed to come out of the stutter that was Blackburn and Fulham by deservedly beating Derby in a crucial game in midweek, Warnock would, with the desire to stick it to former employees which seems to be a very powerful motivating factor in his wishing to continue in the management game well into his eighth decade, want to prove one or two points against his last club.
Well, in the event, myself and plenty of others I would imagine need not have been so fearful – To say City strolled to their 3-1 win today would be a bit of an exaggeration, but, in my experience, you don't enjoy matches with the amount this one had riding on it for your club while it is being played, it's only after it and you've succeeded that the pleasure is felt.
That was not the case this afternoon though – I watched and enjoyed virtually all of this game because we were much the better side in most aspects of the game and we went about showing that with a degree of skill and confidence.
Regular readers of my reaction pieces on here this season may well have allowed themselves a bit of a grin when they read the title I have given this one, because "stylish" is one word I never thought I'd be using to describe a Cardiff City performance during the 19/20 season! Okay, I admit i'm being slightly ironic in my use of the word, but only slightly, because for much of the first half especially, we looked to pass the ball crisply and accurately all over the pitch and not just in our attacking third. Our passing was sharp and had a purpose that said we'll not take three passes when one would do.
Paul Abbandonato, the chief football writer at Wales Online often talks about our final game of last season in which, already relegated, we went to Old Trafford and deservedly beat an admittedly dispirited and disinterested Manchester United team by a couple of Nathaniel Mendez-Laing goals to nil and says how it could have been a template for how we went about playing this season in the Championship.
That day we lined up with Kenneth Zohore leading the attack in front of Mendez-Laing and Josh Murphy on the wings with Bobby Decordova-Reid playing between them in the number ten role and I must admit that I have sympathy with Mr Abbandonato's view.However, instead Neil Warnock wanted to go with an approach which Nathan Blake calls Warnockball on steroids and we saw the result of that in the first three months of the season and for much of the time after Neil Harris took over from him.
Yes, the personnel were always going to be different because our former manager decided to cash in Zohore and Decordova-Reid before the summer transfer window closed for reasons which, even a Zohore fan like myself qcould understand to a large degree because the Dane was such a frustrating performer, and an apparent clash of philosophies with the man who scored for Fulham today.
However, today proved that we had the personnel already at the club to have played a far more effective, varied and entertaining attacking game than what we had to put up with pre lockdown. Today, with a man of the match showing by Mendez-Laing and Murphy, who has had a difficult season, showing to good effect after coming on as a sub for the injured Junior Hoilett early on, we saw what could have been.
Indeed, while Robert Glatzel in the Zohore role may not offer the occasional dynamism and wow factor that Ken could come up with, I think he showed that he is the better all round footballer of the two today. Similarly, while Lee Tomlin may not have the staying power and athleticism of his former Bristol City team mate, when his head is right there are few players at this level with his guile and technique.
At the forty fifth time of asking, we showed how things should have been today – Mendez-Laing ran Boro ragged with his mixture of pace, power and increased appreciation of what was going on around him, while Murphy weighed in with two goals, one of which showed how effective he can be when there is someone like a Tomlin there to feed him.
I wonder what Neil Warnock must have thought as he watched his current team being dismantled by an attack consisting of players who were all at the club when he was manager, but he opted instead for a different method of playing which was never going to see at least three of them (Glatzel, Murphy and Tomlin) used to best effect?
Turning to Middlesbrough, I've not heard or seen any post match comments from him yet, but I can't help feeling that our former manager would not have been happy with his new team because in many ways, their defending for the first two goals for example, they looked very unWarnock like to me.
Middlesbrough's record under Warnock is a curious one. They've won three out of four away games with their only defeat coming when they provided Hull City with their only win in their last nineteen matches and yet, before today, they'd lost all three of their matches at the Riverside Stadium post lockdown.
Indeed, they had lost five out of their last six home games and are winless at their own ground since Boxing Day.
Middlesbrough fans expect their team to be challenging at the top of the Championship these days rather than struggling to stay in it at the bottom, so I can imagine that there has been plenty of fan frustration around over the past eleven months.
Therefore, you may have thought some players had got to the stage where they preferred playing away rather than in front of their own fans and you'd be forgiven for thinking that, perhaps, Middlesbrough may have been one of those to buck the trend of the last few weeks to the extent that their home record would improve with none of their own fans present, but not a bit of it, their results are as ropey after Covid as they were before it!
While I would prefer to praise City for their performance and for an unusually fast start, it was also clear that Middlesbrough were uneasy right from the first whistle as evidenced by a yellow card issued to George Saville with less than a minute played for a cynical foul on Tomlin.
Back in September, City deservedly won a scrappy and largely undistinguished encounter between the sides 1-0 thanks to an own goal by Boro striker Ashley Fletcher which I think I'm right in saying was timed at seventy seconds into the match which means that they trailed us for all but four of the one hundred and eighty plus minutes of this season's games, because there were less than three minutes played today when Sean Morrison netted his third goal of the season.
I could take a cheap shot here and say that it shows how bad Boro were that they allowed us to score from a dead ball situation given our complete lack of impact from them in recent weeks, but Joe Ralls' corner was a good one – whether it was that good that it took all of the home defenders out of the game in a manner suggested by the fact that our skipper was left unmarked to head in from around eight yards out is another matter mind!
An early example of City's neat approach work enabled Ralls to get away a shot from about twenty five yards which drew a diving save from home keeper, and son of Stephen, Aynsley Pears which fell to Hoilett who opted for power from close to the bye line and sent his follow up effort out for a throw in.
A goal then would have put us 2-0 up within ten minutes and after three or four more, Hoilett's game was over, courtesy of what looked like a groin injury which has to make him a doubt for Wednesday's final game of the regular season.
Murphy's introduction saw him give away possession cheaply with his first touch of the ball to prompt a rare Middlesbrough counter attack which suggested that this would be another of those ineffectual and frustrating showings from the winger which have made some supporters turn against him, but he improved after that and, hopefully, his goals will give him some confidence for what looks likely to be a starting appearance in midweek.
I mentioned Glatzel earlier, well today he provided more proof that he has improved since fixtures resumed. I thought he turned in a very good all round showing in a losing cause against Blackburn, but today was the first time I've seen him physically dominate a pair of opposing centrebacks. The best example of this came from a run from the halfway line in which he proved to be too quick and strong for Dael Fry and George Friend with the latter forced to foul him as he bore down on goal. It was arguably a red card offence by the experienced Friend, but referee Jeremy Simpson opted for a yellow and he did so later in the match after an ugly lunge by Johnny Howson on Will Vaulks, but as the former Leeds captain had already been cautioned for a foul on Mendez-Laing, it meant the home side had to play the last ten minutes or so with ten men.
The match was as good as over by then though because City were three up thanks to Murphy's pair of second half goals. The first one arrived two minutes after the break as City broke with devastating effect after they had cleared a Boro free kick from inside their penalty area.
The one player in our side you don't want to see the ball reach some seventy yards from your goal but with plenty of green grass for attacking runners to sprint into is Tomlin and he duly punished his former team by putting Murphy in on goal in a manner similar to the one when the winger scored at Huddersfield in February – Murphy's finish had been calm and clinical that night and it was here as he took his shot early to leave Pears with no chance.
I've seen it said that Tomlin's pass was a superb one, but I disagree – by his standards, it was a simple one helped to a huge degree by Middlesbrough's naive and puzzling defending.
Quite what possesses any team to push their backline so far up the pitch that the last man is stood inside the opponent's half when they are just one goal down with virtually all of the second half to play is beyond me, but Middlesbrough did it and I cannot believe that their manager, who must have known that his defenders were never going to catch Murphy once he received Tomlin's pass, told them to play that way.
Mendez-Laing's one bit of careless play meant a great chance to put Murphy through again was wasted, but he was much more effective in setting up a somewhat lucky second for Him with a swift and powerful touch line run past two opponents and cross to the substitute whose shot was saved by Pears but rebounded back off the City man and dribbled into the net.
Having put an awful lot into the first seventy minutes or so, City ran out of steam a little towards the end and young winger Justin Tavernier caused a few problems, notably when he forced a fine save out of Alex Smithies with a shot from the edge of the penalty area that our keeper tipped on to the crossbar and over.
However, Smithies was denied a clean sheet by substitute Britt Assombalonga, whose long range free kick was a beauty, but I wonder if the keeper would have been disappointed with himself for being beaten from what must have been thirty yards?
So, on a weekend where the Championship again played up to it's reputation of being the most unpredictable of divisions, it was all quite comfortable for us, but I doubt West Brom and Brentford fans will be feeling the same way as, first, the Baggies lost at Huddersfield to leave the in form London side needing just four points given their better goal difference to secure second spot behind Leeds, only for them to lose 1-0 at Stoke themselves to have Fulham still dreaming of an unlikely automatic promotion following their 5-3 victory over Sheffield Wednesday.
Before today's games, only Swansea and Millwall were realistic candidates to overhaul us in the battle for the last Play Off place, but, on a day where there were a number of high scoring games, the latter dropped out of it when losing 4-3 at QPR, while a missed Bristol City penalty means that the jacks can still get past us after Connor Roberts' goal proved decisive at the Liberty – a win for them at Reading and a defeat for us would see them pip us on goal difference.
At the bottom, Wigan's twelve points deduction could still relegate them following a Charlton equaliser in added time, but they know they'd be okay if they beat Fulham. Charlton go to Champions Leeds knowing that a loss would probably send them down, Barnsley need to beat Forest tomorrow or they're down and Luton will be reliant on a Wigan appeal against their points deduction failing if they don't get anything against Blackburn.
The Hatters did their bit today mind winning the relegation shoot out at Hull 1-0 and I'd say the losers are the side most likely to go down as of tonight.
It just so happens of course that Hull are the visitors to Cardiff City Stadium on Wednesday. As I mentioned earlier, it's just one win in nineteen league games for the Tigers now and that's what they need to have any chance of avoiding relegation and probably stop us reaching the Play Offs, it's can't happen can it and it won't happen will it, will it?