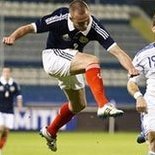 Kenny Miller is in the USA with Scotland for a friendly against the Americans later today in Florida.
"End-of-season trips aren't normally the best, but this is a good one. I've been looking forward to coming here. It's not bad is it, coming to Florida?" he said.
"It's a good game as well and it will be a test for us against the USA. It's part of the preparations for the World Cup qualifiers this year.
But on his first season at Cardiff City he reflected,
"I was pretty disappointed with how the season went for us at Cardiff," he told Wales Online.
"For one reason or another things didn't work out as well as I hoped.
"It took me a while to get going because I didn't have a pre-season under my belt. Towards the end of the season I started to notice it and it told in the end.
"It was the first time I'd missed pre-season and it made things hard for me. I definitely faded towards the end.
"There were highlights, like getting to the Carling Cup Final and coming so close to winning it.
"In the league we got into the play-offs and a lot of people would have taken that at the start of the season.
"But I wanted to win the league and get automatic promotion. In January I thought we were looking good for it, but we fell short.
"I remember seeing a league table at the end of January and we were third, a point behind Southampton.
"We played them next and then had a game against Blackpool and we didn't win either of them. From there we went on a horrible run. We went from being in the mix to falling away.
"Maybe if we'd strengthened in January it might have helped, but the manager wasn't able to bring anyone in."