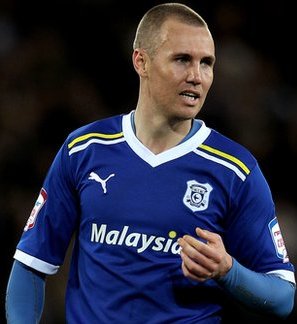 Cardiff are massive underdogs when they face Liverpool in the first major cup final of the season. But that doesn't faze Kenny Miller who has won a play off final in England and plenty of silverware in Scotland as well.
"The way we play we've got a chance," he said.
"Malky was an aggressive player in defence and he's like that as a manager. He wants the best and demands 100 per cent. We're set up in a solid way and it's worked for us this season. We've had a little dip of late but we know we can give anyone a game."
Miller is more often than not leading the attack on his own. "It doesn't bother me," he added.
"As long as everyone else is working hard and doing their jobs I know I'll get support. Don Cowie and Aron Gunnarsson have been great running through from midfield and it's a role I'm used to playing with Scotland."
After a spell in Turkey Miller is enjoying his time in the Weslh capital.
"It's a great city to be in and the club is going well. We've had a dip lately but if we can get back to the way we were playing a month or so ago then we'll be in the promotion frame at the end of the season."
Miller doesn't want his team-mates to have stage fright on Sunday.
"It's important we don't get overawed by it. We've earned the right to enjoy the day and although we know Liverpool are a great club and we respect them as a team, we need to concentrate on what we're good at. We won't make it easy for them."