Wales may not have been great to watch until their most recent game this season, but when the entertainment value is low, you can still at least take pleasure from the team you support grinding out the wins.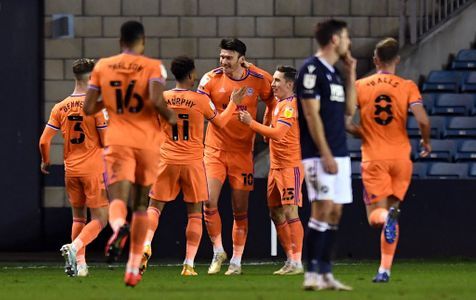 The fact that Cardiff City have only won three out of eleven (twelve if you count the League Cup no show at Northampton) rather tells the story that there hasn't been much satisfaction to be had from admiring chiseled out victories from the club I support. Although the recent win over Barnsley was enjoyable and we played pretty well in an unlucky defeat by the wurzels in our last match, there is little doubt that I find myself on the side of my country in any club v country debate as to who I've enjoyed watching more in 20/21 so far.
Now though Wales have to be put on the footballing back burner until the end of March as we enter four months where it's going to be club football all of the way.
To be honest, at a time when you would really like something from your football team to take your mind off the grim relentlessness of life in this miserable year, the thought of four months of watching City playing like they have been doing so far doesn't fill me with excitement.
Furthermore, a game in south east London against a Millwall team that have been the closest thing to a Championship equivalent of Cardiff City in terms of style of play in recent seasons to start things going again was hardly something to get my juices flowing.
Earlier in the week, I did a piece on City's season so far while also drawing attention to our recent record against Millwall which, if it is possible for something to be this, manages to be both remarkable and mundane at the same time!
I say that because, before today, Millwall had only beaten us once in fourteen games, but we'd only managed three victories ourselves during that time – furthermore, the previous five matches between the clubs at the New Den had finished all square.
There's more to it than that though, I look back through the meetings between the clubs I've watched at Development and Academy team levels down the years and an awful lot have ended up as draws – as, indeed, have many of the reverse fixtures in London.
I can't be sure of this, but my guess is that something like seventy per cent of matches between the clubs at those three levels since our senior side's first promotion to the Premier League in 2013 have ended up as one pointers.
Therefore, if I were a betting man, I would have put a pretty heavy wager on today's match finishing level and I would have favoured it finishing 1-1 – sure enough, that's how it ended up, but I don't claim any great credit for being right, it was simple law of averages stuff.
I'm afraid I cannot claim any great insight into what sort of match it was because it was another of those ones where, apart from the two goals which I've seen, I only had the Radio Wales commentary to go on and, on that score, Wales women's team striker Helen Ward came across very well as both knowledgeable and insightful – being the age I am and having lived a life where for more than ninety per cent of the time, football was covered as a solely male sport by the huge majority of the media, I found it hard to adjust to hearing and seeing female pundits and commentators, but there are some very good ones around and today Ms Ward was a definite improvement on some of the male summarisers I've heard at City matches.
Based on what I heard from the Welsh women's team highest ever scorer and her colleague Mark Poyser, today's game was the slowest of slow boilers, but at least it was the better type of draw where your side comes back after falling behind.
With Lee Tomlin out until mid January at the earliest following an operation on what is a chronic groin condition and Jordi Osei-Tutu still a month away from a return from his hamstring injury, the only good news on the injury front is that Greg Cunningham is back in training, so, at a time when the number of substitutes has increased because of the reintroduction of the pandemic induced rule from last season which allowed five changes to be made, our bench included a few names that you would not really have expected to see used.
As for the starting line up, having reverted to the usual 4-2-3-1 for the wurzel's game following the 4-4-2 used against Barnsley, it was back to the latter again with Keiffer Moore and Robert Glatzel up front, Harry Wilson and Junior Hoilett on the wings and Marlon Pack and Joe Ralls in the middle of midfield.
While that system worked well against Barnsley, I must admit to not being a great fan of it when City use it because, with two strikers who both not far short of six and a half feet tall, it can draw the team into playing in a manner which we are trying to move away from to an extent. Furthermore, when you consider what a coup Wilson was considered to be when we signed him, sticking him out on the wing seems a waste to me.
We struggled to get Wilson into the game against Barnsley and it was only when he moved into a number ten role and we reverted to 4-2-3-1 that he became an influence on proceedings – self evidently, 4-2-3-1 is not the complete answer to the problems we're having this season, but I don't believe 4-4-2 is either.
In truth, I don't feel it's a case of us discovering the right formation and then everything will be fine – it seems to me that, whether it's because of instructions from the manager or it's an attitude of mind thing with the team, we do start games timidly and yet, in the last ten minutes today we were really going for the win and could easily have lost the game when Millwall caught us on the break.
Suffice it to say, the first half was another tough listen with, seemingly, only two incidents of note. The first of these came on thirty five minutes courtesy of rare blunders by two of City's most reliable players, Alex Smithies and Curtis Nelson, who both gave the impression they were going to deal with Shaun Williams' cross, then decided to leave it to each other, thereby presenting the towering Matt Smith with a simple chance to score his fourth career goal against us.
Just before the break, Glatzel got his head to a Hoilett cross and was denied by the first of three very good saves by home keeper Bartosz Bialkowski in what was our sole worthwhile effort of the first forty five minutes and the opening half an hour or so of the second period offered little hope of a way back into things either.
Millwall didn't sound anything special themselves, but Ben Thompson should have doubled the home team's lead rather than head Jed Wallace's cross over from close in and then the same player wasn't too far away when he tried his luck from twenty yards.
The home side, with one of the better goals against records in the division, were comfortably coping with City and, given the chance to make five changes to his team, Neil Harris only chose to make two as Sheyi Ojo came on for Hoilett and Josh Murphy for Glatzel.
This was the crucial substitution for City. Murphy had only been on the pitch four minutes when he split the home rearguard with a lovely pass which sent Moore running on goal – there was some luck for the striker and his team in the end as home captain, Jake Cooper, slid in to try and block the shot and only succeeded in getting a slight deflection on it to help beat Bialkowski.
What had been a pretty miserable showing by City was now transformed – Murphy, showing the ability we all know he has, set up Wilson for what seemed a certain goal only for Bialkoski to deny him from close in and the keeper again performed heroics to keep out a Moore header.
There was a also a home clearance off the line well into added time, but it was Millwall who wasted the best opportunity of the closing minutes when sub Jon Dadi Bodvarsson ran from half way with desperate defenders in pursuit only to shoot wide.
So, yet another draw which leaves the teams with only two wins between them in their last thirteen matches – it's a result which is no good really for either side and City really do need to record a couple of wins in their upcoming matches with Coventry, Luton and Huddersfield before what looks a tougher run of fixtures in the run up to Christmas.