https://mauveandyellowarmy.net/
Last season, Cardiff City drew two of their first three league games and then only managed two more from then on. When none of their first three matches this time around were drawn, it meant that those two games, at Palace and at home to Huddersfield, were the only ones they had managed in the equivalent of a thirty eight game Premier League season.
Furthermore, with all of last season's draws being goalless, as well as the one in the game with Reading which clinched promotion in 17/18, they went fifty matches without a scoring draw between the 1-1 at Sheffield United on Easter Tuesday 2018 and the game with Fulham in August which ended with the same score.
I won't fall into the trap of using Jimmy Greaves' old cliche, but football really is weird game. From being a side which barely ever did draws, particularly score draws, we have been transformed into one which can't stop getting them over the last six or seven weeks.
Tonight's 2-2 with Millwall at the New Den was our sixth draw in our last ten league matches, with five of them being score draws. When you also consider that only one of those ten games have been lost, then you can't help thinking that we should not be in the lower half of the table that we dropped into after tonight's match.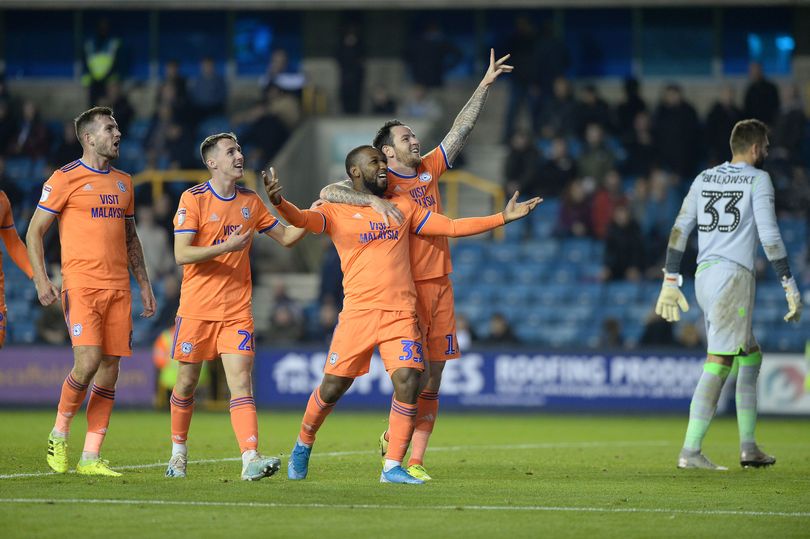 City players celebrate Hoilett's goal
Since the Championship became the league when any one can beat any one, there has been a tendency for virtually every team in it to have one very good run in a season which gets those near the bottom dreaming of a top six finish, those in the middle believing automatic promotion may even be on and those near the top wondering how many points they will finish ahead of the team in third place.
Will City be able to improve on a run of one defeat in ten over the course of this season? It could well be that they don't, but all of those draws mean that they are not getting full value for the fact that they are edging towards playing the equivalent of a quarter of a Championship season and only losing once.
The fact that those ten games have only gained us fifteen points explains why we have only risen six places during that time. We have gained just a point and a half a game since we lost at Reading in our third match and that spread over a Championship season would yield us sixty nine points. That is one more point than Leicester gained when finishing sixth in our title winning 12/13 season, but that was an exceptionally low total with which to make it into the play offs and City would have to be very lucky indeed if they were to do so this season with such a low total.
For some sides, for example the one we played tonight, the sort of run we are on would be seen as a positive thing, but Cardiff have a degree of expectation this season which means that, although it might be a harsh judgement, thirteenth place after thirteen matches has to be seen as failure – I say that while appreciating that we're only four points off sixth place and six behind Leeds in second.
The likelihood is that our position will worsen tomorrow when four sides who are above us play, but none of them can overhaul Leeds and we can only drop one more point behind whoever is sixth.
So, despite a general level of performance which I feel equates to something like thirteenth place, we are certainly in a position where we look more likely to be involved in a promotion race than a relegation dogfight – the worry is that we are on a run where we're not losing many, while some of the fancied sides are showing an inconsistency which will probably sort itself out over the coming weeks, so we really do need to start turning draws into wins soon.
Our last two matches have proved that there are different types of drawn games. Despite putting our opponents under an increasing amount of pressure in the closing stages of last Friday's 1-1 with Sheffield Wednesday, I think it's fair to say that we were lucky to come out of that game with our unbeaten home record intact thanks to Lee Tomlin's beautifully taken, but controversial, late goal.
Tonight's game was different however – if Friday could be said to be a point gained, this was two points lost. Neil Warnock's post match comments summed up the feeling of what might have been as he spoke of being as frustrated as he has been all season and said;-
"it's scandalous really. I've never felt so comfortable at Millwall.".
"We had shots after shots. Chances after chances. We were so charitable in the two goals. There isn't a lot to complain about apart from the two goals we've conceded. I'm disappointed. It's as good an away performance as you could get at this place too."
"We didn't want to get sucked in to the physical battle. We wanted to try and play."
From what I saw and heard of the game, it was like our recent draw by the same score at Hull except that we were behind twice there and led twice tonight, so the feeling of frustration is all the more palpable.
One other thing our manager said was that Leandro Bacuna's absence from the eighteen was down to illness, while it appears that the injury to Junior Hoilett as he was turning in what I would say was the best performance by a Cardiff City winger this season was to his hamstring, so, if that is correct, then we're unlikely to see him again before the next international break halfway through November.
Hoilett and Gavin Whyte came into the team for Josh Murphy and Nathaniel Mendez-Laing, while Lee Tomlin was picked to fill the gap caused by Bacuna being unavailable and Danny Ward took over from Robert Glatzel in what was a more attacking selection for an away match than usual by Neil Warnock.
City overcame a pretty rocky start and then took the lead when Joe Bennett combined with Hoilett in the twelfth minute for the latter to send in one of many fine crosses he has provided over the last two and a bit months for an unmarked Ward to nod in from six yards to record his fourth goal of the season.
Having taken the lead with their first real attack of the match, City settled down to look the better side for the rest of the first half,, but in the minute before the whistle was blown for the interval the match was stood on its head. Firstly, Ward wasted a good chance to put City two up when he put his shot too close to home keeper Bartosz Bialkowski and then Millwall went up the pitch and Welsh international striker Tom Bradshaw's shot beat Neil Etheridge with the help of a slight deflection.
Aden Flint had looked heavy legged as he tried and failed to intercept the Mahlon Romeo pass which led to the goal and I'm afraid the same could be said later about his central defensive partner Sean Morrison after he was too easily taken out of the equation by a pass played inside him for Bradshaw to finish impressively.
That goal with thirteen minutes left equalised one by Hoilett as, having scored in the twelfth minute of the first half, City did the same in the second period. This was one of the best goals City have managed so far this season as Ward flicked Etheridge's free kick on for Hoilett to find Tomlin whose lovely backheel gave the winger the chance to curl a shot from the edge of the penalty area past the diving Bialkowski.
It was a goal good enough to win any game and was City's ninth away goal in seven matches. That's a decent strike rate that should have ensured that they had got that elusive first away win of the season on board by now, but the fact that they haven't has to be down to a porous defence which now been breached fifteen times on their travels.
Sol Bamba played his first match of the season yesterday when he turned out for the Under 23s at Colchester. Bamba came through the game, which City won 2-0 thanks to goals by Will Vaulks and Shamar Moore, without a problem, but Neil Warnock ruled him out as far as an immediate return to first team action was concerned saying that he was not fit enough yet.
Now, I wouldn't rule out the possibility of this being an example of our manager playing mind games and we end up with Sol's name being on the teamsheet at Swansea on Sunday. However, if he was to feature, I wonder if it might be as a defensive midfield player? I say that because I'd be surprised if our manager is considering breaking up the Flint/.Morrison defensive partnership despite us now having the worst away goals against record in the Championship and I'm not sure if our manager is inclined to resort to a three at the back policy given its limited success under his tenure here so far.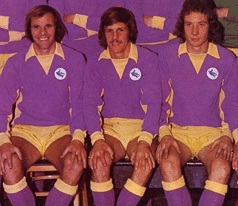 Once again, can I make a request for support from readers by them becoming my Patrons through Patreon. Full details of this scheme and the reasons why I decided to introduce it can be found here, but I should say that the feedback I have got so far has indicated a reluctance from some to use Patreon as they prefer to opt for a direct payment to me. If you are interested in becoming a patron and would prefer to make a direct contribution, please contact me at paul.evans8153@hotmail.com or in the Feedback section of the blog and I will send you my bank/PayPal details.