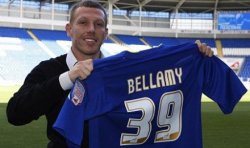 When Craig Bellamy signed on loan for Cardiff City in 2010 the messageboard on this website recorded the highest number of hits in it's history.
We were trending on Twitter, headline news on Sky and making the sports bulletins worldwide.
But now Craig plays for Liverpool and on Sunday, if selected - and he will be, he will line up against his hometown team.
He was asked this week if he would celebrate if he scored (you feel that the mainstream media just expect him to score).
He told The Independent
I certainly won't," he said. "I tried not to, against Man City. I tried to hold myself back. Really, I didn't celebrate that much, but in the occasion and the moment you get a little bit carried away. I have no aspirations of celebrating. But I have to be on the pitch first and foremost before I think about scoring."
The 32-year-old, whose contribution recently led Ian Rush to suggest that he might be Liverpool's best buy for years, revealed that it was his initial footballing ambition simply to play for Sunday's opponents.
He replied robustly yesterday when it was put to him that his move to the Cardiff City Stadium had been an enforced one last season.
"I had to move? I wanted to go to Cardiff. I'd set an ambition. I didn't plan when I was going to do it, in fact I wanted to do it at the start. It wasn't that I had to go and do it. I fulfilled a dream by playing there.
"If you'd have asked me even a year ago that if Cardiff City were in a final a year later, who would I be playing for, I'd be saying Cardiff."
Of his back problems, he said: "My fitness is fine. My back spasmed up after I came on against Manchester United a week and a bit ago, and it just got a little bit worse during the week instead of improving.
"The manager said 'Look, if you need an injection then get it done now, because we have a lot of games coming up'. It's such a busy period, so get it sorted just in case. I start training on Thursday, so I'm fine at the moment."
Improbably, Bellamy insisted that winning a first competitive trophy in England – following the 2006 Community Shield, with Liverpool, and the 2005 Scottish Cup, with Celtic – would make no difference to him.
"None. Honestly. If I win, I win. If I don't, I don't. I will not lose one second of sleep over it. Not one. I have enjoyed my career, I've had a great career. Is my career defined by trophies? No. I'm very fortunate to play this game, I've achieved more than I set out to achieve.
"Off the top of my head, I don't know where my Scottish Cup medal is. I don't have a photo of the game anywhere in my house. I just set out to win every game I play in, and if I win trophies because of that, then great."
--
So will he celebrate if he scoes? If it looks like being the winning goal I expect him to celebrate as you would expect a player in his position to do so. Hopefully though he doesn't get the choice and he he either doesn't play or has no clear chance at goal.