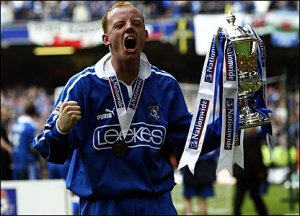 "It's all in Cardiff's hands," said the man who's goal beat QPR at the Millennium Stadium in 2003.
"However Middlesbrough can put the pressure on them and make them look over their shoulder. Anything can happen in football and Middlesbrough need to be ready."
Should Cardiff lose at Selhurst Park, and Middlesbrough beat Watford, it would be Tony Mowbray's side making the play-offs at the expense of the Bluebirds.
"I'm sure Cardiff can do it as I'm sure Middlesbrough can go and win the game at Watford as well. They're both on a good run of form," added former Boro and Cardiff striker Campbell.
"It's a Catch 22 situation for myself as I follow both teams and it would be nice to get them both in the play-offs and maybe the play-off final.
"But that's not going to be the case unfortunately and one of them is going to miss out on Saturday.
"Hopefully whoever finishes in the play-offs out of the two teams will go through to the Premier League. It's going to be exciting and nervous as well.
"If Cardiff can go to Crystal Palace on Saturday and get the result that they need they're going to go into the play-offs confident.
"Whoever they play I'm sure they'll give their best and it will be good enough in the play-offs."