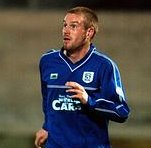 That if they play tomorrow it will be
Peter Thornes 350th career appearance.
Rhys Westons 100th start for Cardiff City.
Richard Shaws 25oth start for Coventry.
If he scores tomorrow it will be
Gary McAllisters 150th career goal.
(stats from BBC)
Coventry connections.
Willie Boland. Currently at the heart of City's midfield. Signed from Coventry in 1999.
Bobby Gould and Phil Neal, both managed Coventry and Cardiff in the last 10 years.
Both teams have won the FA Cup once.
Dean Gordon was on loan at Cardiff last season, he is a Coventry player this season.
Dean Holdsworth has just completed a signing to Coventry. He was under Sam Hammam as part of the Crazy Gang at Wimbledon.
Youngsters David Pipe and Lee Fowler are both Cardiff boys. Pipe, 19 a winger, may get the chance to play against the club he was at when he was 12 / 13.
Last season Coventry went out in round 3. Beaten by Spurs. Cardiff beat leeds at this stage last year. 2 - 1 with goals from Graham Kavanagh and Scott Young wiped out Mark Viduka's opener.
Liverpool connection.
Gary McAllister joined Coventry from Liverpool. Richie Partridge is on loan at Coventry from Liverpool. Layton Maxwell signed for City from Liverpool. Robert Earnshaw is rumoured to be an £8m target for Liverpool.