When Steve Morison was appointed as caretaker manager following the 2-0 home loss to Middlesbrough three weeks ago, it was intimated that he would be in charge for the next three matches before the November international break and then a decision would be made about who would be taking over from Mick McCarthy.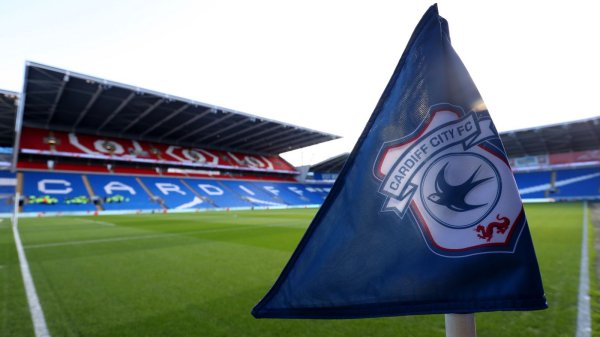 As the first week of that break went by with no official word as to what was happening coming from the club, it might have been that frustration would have built as the Board was seen to be dithering, but it never really reached that stage because, for me at least, it seemed increasingly obvious that the job would be Morison's.
Mike Flynn, who I wouldn't have been too disappointed with, was the bookies favourite (for all that is worth when it comes to predicting the identity of a new managers) for a long time and was at the match last weekend against Huddersfield. However, whether he was ever a serious contender or not, he seemed to fade out of the picture after watching us play (make of that what you will!).
My own favourite was Michael Beale who was part of Steven Gerrard's coaching staff at Rangers. Someone whose opinion I have a lot of respect for when it comes to the fields of youth development and coaching told me it would be a "coup" for City if we could get Beale. Although there is nothing concrete to indicate this, I get the feeling we were definitely interested in him and find myself wondering what might have happened if the opportunity to work in the Premier League had not presented itself this week – Beale is widely believed to be on the brink of following Gerrard to Aston Villa.
Neil Warnock was always going to be mentioned by the media once he lost his job at Middlesbrough and, typically, he had his say on the matter as he claimed he'd been offered the City job – people who usually are on the ball on such things say this is not the case and, thankfully, nothing came of such speculation.
So, Morison, through a combination of improved results and performances from the team under his watch and possibly a lack of serious alternatives, was confirmed as manager until the end of the season yesterday – why only until the end of the season? If they think he's up to the job, give him a longer contract. As it is, it comes across as more typically Cardiff short termism under Vincent Tan.
For me, there are two ways of looking at Morison's appointment. The cynical view is that he's got the job because, as someone who was already at the club, he comes cheaper than most and, as such, it's more of the blinkered thinking which cannot look beyond the next few months which has been a bane of decision making at owner/Board level that has typified the Tan regime.
I'm not going to argue against this, because there is a part of me, admittedly only a small part, which thinks the cynics may be right, but, on balance, I favour the positive option, as felt by a majority of City fans it would seem, option that there is a degree of joined up thinking going on here. Another appointment announced yesterday (which I'll come to later) only increases my positivity as well – I say this despite noting that club Chairman Mehmet Dalman was rubbishing Morison's candidature little more than a fortnight ago!
However, as Mr Dalman also intimated in his meeting with Supporters representatives last month, Vincent Tan is the driving force behind all of the major decisions at Cardiff City even if it often appears to outsiders like me that his commitment to the club is on the decline.
There is logic in the decision to appoint Morison to the extent that it seems to me that City are increasingly going to be reliant on how well, or badly, the series of young Academy products in and around the first team currently handle the step up in standards that they're currently going through. Therefore, it makes sense to have someone there in charge of the playing side who they know well and, presumably, trust given that they wouldn't be getting the chances they currently are if they had not prospered and progressed under Morison in the under 23s.
With so many senior players approaching or beyond the age of thirty and coming to the end of their contracts in a little over six months time, Mr Tan must know that, realistically, it's only Keiffer Moore out of that group who is likely to attract a fee which would make a significant difference to our financial situation.
On the other hand, if two or three of the home produced youngsters or someone like Mark McGuinness can continue to develop and prosper at the higher level, then there is a two fold benefit – results should improve gradually and we'll have far more saleable assets than we do now.
Furthermore, the difference between what is happening now at Cardiff and what tends to happen at a "normal" football club is that, to borrow that old London buses analogy for a moment, you wait a decade at Cardiff for a good young player to turn up and then suddenly stacks of them arrive at once.
I've already mentioned Mark McGuinness, but then you consider the sheer number of young players who have gained some first team experience recently. Mark Harris is a little older than the rest, but shares the inconsistencies you always tend to get from youngsters, yet he has shown an ability within the last couple of months to make a decisive impact on games for club and country when coming off the bench.
Rubin Colwill is the one gets the most publicity, but, on the attacking front, there's Keiron Evans and Isaak Davies, Sam Bowen has, for me, done enough in midfield to show that he should be starting every week if fit, while Eli King can now say that he's played Championship football for City as well. At the back, Joel Bagan has got valuable league experience behind him and it's easy to forget now that Oliver Denham, Tavio D'Almeida and Tom Davies have all played first team football in the League Cup this season and not looked out of place.
Among those who have not made their first team bow yet, I've always rated Keenan Patten a fine prospect and he's been an unused sub plenty of times now for the seniors, Chanka Zimba has been the in form striker at the club this season and you feel a first team appearance can't be far away for him now, while George Ratcliffe chalked up another Wales Under 21 appearance last night and was being talked up as the best prospect at the club a couple of years ago – Cardiff City are well represented at all age group levels with Wales in the male game currently also.
My point with all of this is that, although City certainly have their problems currently, they are, nevertheless, in a fortunate position whereby sheer weight of numbers combined with the law of averages, tells you that we're going to have a nucleus of two, three or, hopefully, more who will either become good first team footballers for us or make the club a tidy sum of money.
You'd like to think that, based on his record with us so far, Steve Morison will do his bit to make sure the chances that what I talked of in the last paragraph will come to pass, so you'd hope that, besides saving us money when we appointed him, he'll help make a lot of it for City in the years to come.
So, financially, Morison's appointment make sense – it's on the football side that I feel the risk factor behind his appointment really kicks in. I'd say that, in terms of risk, this is the biggest step into the dark in managerial terms the club have taken during the Tan era and, probably for a good while before that.
Morison deserves credit for taking over a club on an eight game losing streak which had scored in only one of those matches (a solitary consolation goal when the game was well lost at Blackburn) and managed a sequence of draw (under amazing circumstances), lose and win from the next three matches while the team scored five times in all.
Not only that, I often refer to how Neil Harris effectively gave up on trying to introduce a more measured and progressive style at Cardiff a year ago as form dipped and results suffered. Harris figured that the players needed to return to a way of playing that they were more familiar with, so it more of balls whacked back to front quickly, possession at a premium and an over reliance on set pieces.
Mick McCarthy came in, said he was a pragmatist and made the team even more direct, boring and set piece orientated than they had been before. Sadly, the more things went wrong for McCarthy, the more he double downed on a style that was clearly not working, with the infamous five centrebacks becoming the single thing that I believe he will be remembered for at Cardiff in the years to come.
That's the background that greeted Steve Morison and yet he's tried, and succeeded to a degree, in getting us to play a passing game which is far more worthy of that description than anything Harris ever managed.
Apologies, because I do not have the exact figures to hand I'm afraid, but the passing stats from the Huddersfield match offer the best evidence as to the change that Morison has instituted in our approach. Around the half time mark last Saturday, the commentator on the club website correctly stated that on the rare occasions that City had more than fifty per cent possession in the past couple of years, they have tended to lose – more evidence of the lack of creativity that has blighted the team since their relegation in 2019 then.
However, against a Huddersfield side that is very much possession based, we managed to win the possession count 54/46 and the game (albeit luckily). More pertinent I'd say was the number of passes attempted (up around four hundred and fifty) and the well over three hundred of them that were successful.
Such figures would have been dismissed as some sort of statistical freak in the City sides of Slade, Warnock, Harris and McCarthy (we successfully passed the ball 110 times I believe it was at Swansea under him!), but I don't think they should be under Morison. I've mentioned on here before that his under 23 side have often had less than fifty per cent possession this season, but there's a calmness and order to them when in possession which has me thinking they're in control of the game even when the opposition have the ball – they know what they want to do and are capable of doing it whereas, increasingly, the first team gave the impression of being incapable of sticking to the plan.
I should though at least pose the question that, given those Huddersfield figures, perhaps our experienced players are not as bad at passing the ball as I thought they were and the Morison effect is getting through to them? Time will tell.
So, everything in the last few paragraphs are positives for Morison in a football sense, why then do I say it's a big risk to appoint him? Well, I can't help thinking that there's been an element of flying by the seat of our pants to our three games under our new manager.
While this may be inevitable given the situation he inherited I suppose, I feel that we could very easily have lost those three matches – although we always looked a danger going forward, Stoke were well in control for at least three quarters of that match, QPR were comfortable defending against us for the whole game apart from a spell at the end where we forced a few corners and Huddersfield would have been out of sight with better finishing.
There still seem to be gaps in our midfield that teams can play through and we still are allowing opponents too much time to get shots away from the area in front of our back three, four or five. Worst of all though, we still look so loose defensively and the fault from early in the season when we were being opened up by a single pass has made an unwelcome return under Morison.
We've scored five in three, but we've conceded that number as well and I'm not seeing an improvement defensively under Morison to go alongside what's being achieved at the other end of the pitch. The good thing is though that it would appear this fault has been recognised and the appointment of 12/13 title winning captain Mark Hudson as a first team coach, to work alongside Tom Ramasut (the job he's done in the past three weeks shouldn't be ignored) looks to be a good move – you'd like to think someone with Hudson's experience in the position will lead to improvements in central defence.
For now though, it's great to have someone who I grew to appreciate more the longer he stayed at the club back, at the moment Cardiff City feels like an easier club to like than it has done for some time.
https://mauveandyellowarmy.net/