Steve Morison held his first press conference as Cardiff City interim manager as he looks to end the run of eight consecutive league defeats.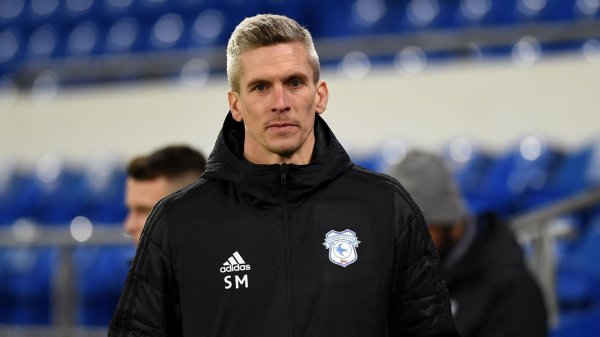 Morison has been managing a very successful U23's team along with former City player Tom Ramasut and the pair take over first team duties. Morison was asked if he would bring his own 'style' to the first team..
"Style is a really horrible thing to talk about," he said.
"When you're winning games no one cares. It only becomes a massive conversation when you're not winning games.
"I'm going to get try and get the best out of these players, playing in a way that gets the best out of them.
"I have to be really mindful and careful of the fact that, if you give them too much information, you don't want to confuse them.
"We've been doing something in the under-23s, we've worked on it for so long that now if you add something in, it's really easy because all the other stuff is second nature.
"With these boys, ahead of the Stoke game, I need to tell them what I want, ask them to carry out what I want, not give them too much 'out there' stuff that's been miles away from what they've been doing.
"Hopefully the players that go on to the pitch on Saturday will play in a way that suits them and gets the best out of them.
"That's my main focus, it's not a ripping up the rule book of how we play football. We've still got to run harder than Stoke, fight harder than Stoke and we've got to stop the ball going in our goal and make sure we put it in their goal a few times."
The former Wales international striker is one of a number of names in the frame for the job full time. He has a chance to prove himself over the next week or so with City have three games in 8 days. Stoke away followed by QPR and Huddersfield at home before the international break.
Chris Wilder, Jody Morris, Brian Barry-Murphy, Anthony Barry and Michael Flynn are other names linked.
"I'm in the betting because I'm here now!" Morison said of the betting odds.
"If I win three out of three, like we're planning on doing, then I'm going to be higher in the betting!
"Honestly, I'm not worried about it one little bit. I'm not interested in what people might say – I never have been and I never will be. I've got one sole focus and that is getting us a result on the weekend.
"Because, ultimately, we can't go nine for nine."