Steve Morison rewarded for selecting captain Sean Morrison as the City skipper scores winner at Kenilworth Rd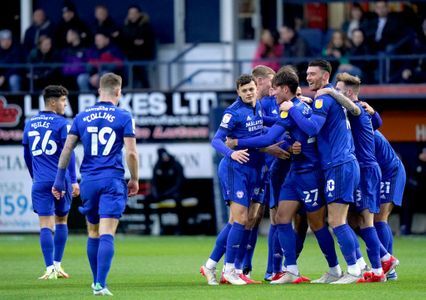 "He was excellent," Morison said of his captain.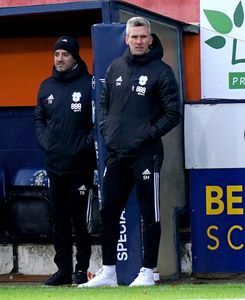 "It was a great team move and he was there to put the ball in the back of the net.
"I made four changes today, like I did against Huddersfield, and I'll continue to do the same," he added.
"It's imperative we have fresh legs and fresh bodies.
"Sometimes it gives you people who have a little bit extra or a bit of a point to prove.
"It keeps people involved, it keeps people interested and they've got to realise they are one game away from starting a game of football, so they can't shut off and down tools.
"There's a point to it, a process to it. We have done it twice now and it worked twice."
For the second Saturday away from home in a row Morison was playing to the crowd after the final whistle.
"They like it when I do four (fist pumps), so I did four.
"I did four last time (at Preston), but I slipped on the second one. Thankfully they cut it out of all the videos!
"When you win the games, you've got to enjoy yourself, the boys are buzzing in there! That's what it's all about.
"Wednesday night I walked down the tunnel when we lost because there was nothing to celebrate.
"Tonight we have got something to celebrate. The main thing now is that on Monday morning everyone comes back in with a smile on their face."
Sky Highlights - here
Nathan Jones said: "I'm learning as a manager. I pulled people out from the team today that were excellent in midweek because I wanted to freshen it up with big and strong players. Ironically, we play three centre-halves and they scored from two crosses into the box.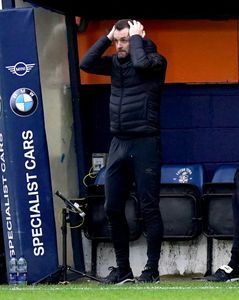 "I'm better off going a little bit braver and bolder in my selection process. Some people were unlucky not to be picked today and in my mind I know they have done really well this season but we have a poor record against Cardiff here and other teams enjoying playing against them.
"They put two decent balls into the box and scored from them. We put two glorious balls into the box but we didn't score. All over the pitch, we didn't do what we do best, we weren't aggressive enough and we weren't dominant.
"We didn't deserve anything today and if I'm honest with you, it is as embarrassed I have been as a Luton manager. I know we lost 5-0 to Birmingham here but today I freshened it up, we worked hard in training, but we were a mile off."