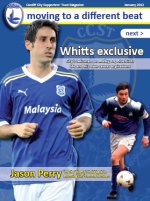 The following interview with Peter Whittingham was conducted by Supporters' Trust member David Towler and appears in the latest edition of Moving to a Different Beat, which is the Trust magazine.

Details about the magazine can be found here:

http://www.ccfctrust.org/?p=2029

The latest edition really is an excellent effort. It is free to members and can be purchased by non-members for just £1. Copies are available from the Trust office and there should be a few sellers dotted around the ground before the Crystal Palace game on Tuesday.
Members can download the magazine from the Trust website.

David Towler's terrific interview with Peter Whittingham reads as follows:

MTDB: You've been with the club for many years now Peter, what's the biggest difference since you arrived?

Whitts: Probably the squad as a whole. When I first came here everything was at more of a development stage. It wasn't a big squad, we only had 13 or 14 players and that was it. Now, if you look at the bench and the people missing from the first team, the standard has massively improved. I think that shows in our results.

MTDB: You started your career on schoolboy terms with Coventry, was it dificult leaving the club you supported as a boy?

Whitts: It wasn't that difficult because I got told to leave! I was told I wasn't good enough to make the grade at 16. Aston Villa rang me up a few days later and asked if I wanted to go on trial. I went there for the trials and managed to get a contract.

MTDB: You've now got a great record of scoring against Coventry, scoring four goals in five games, including the 50th of your Cardiff career earlier in the season. Were you aware of that milestone? and do you enjoy scoring against them?

Whitts: Yeah, its weird - I always seem to score against them, I'm not sure if it's the ground or what happened to me there or anything like that, but it's nice. I think players do have their favourite grounds but I'm just happy to score any goal to be honest. It may not look like it when I actually score, but when I'm involved in goals, whether it's through an assist or whatever, I'm very happy and that's the way I want it to continue.

MTDB: Despite the disappointment of leaving the Sky Blues, you soon landed a contract at Villa, that must have been exciting?

Whitts: It was a bit nerve-racking, Obviously my confidence had been hit after being released from Coventry and you don't know what's going to happen to you. I went to Villa, played in a couple of trial matches and managed to score a few goals. They said they wanted to give me a contract which, at a club like Aston Villa, was absoultely frightening.

MTDB: You made your Villa debut against Newcastle in April 2003 and the following season made 32 first team appearances. You must have been encouraged by the progress. Any idea why it tailed off?

Whitts: With a massive club like Villa it was always going to be difficult for me when they're bringing people in. There's quite a lot of money to spend, so they can attract some big players, so it was always going to be hard for me. I don't regret my time at Villa at all, I played about 60-odd games and I had a great time there. It was a good learning curve for me, obviously you're starting to understand the game and you're around such good players - I wouldn't have changed it for the world.

MTDB: And you gained more experience going on loan to Derby and Burnley?

Whitts: It didn't really work out for me in all honesty. I didn't know too much about either club at the time. I went to Derby and Phil Brown was manager, he told me he was going to play me in midfield, and I actually played at left-back! I think we all know about my defending, so I think that was one of the worst decisions he could have made and things didn't work out there. At Burnley, again, it was hard for me. I was still a young lad and going to a team like that was difficult. It's all a learning curve I suppose. You go from a place like Villa to the Championship and it's going to be tough, but I think to get first team experience in a different division stood me in good stead for when I came here.

MTDB: Villa's loss was our gain though - can you remember how your move to Cardiff was brought about? I doubt very much it was the "Dog-Muck-Park" training ground that tempted you to South Wales!

Whitts: My agent rang me and said Cardiff are interested in talking to you, do you want to go down and have a look? At the time I wasn't getting games at Villa and I wasn't on the bench or anywhere near it, so I was looking to get out and said "yeah, let's go for it!" I came down and spoke to Peter Ridsdale, who was really good to me, and I spoke to Dave Jones as well. They showed me their plans for the future, and that was a massive part of the reason why I joined. I wanted to be part of something that was going to improve, something that was going to be better and be talked about. I think that's what has happened here.

MTDB: Since arriving at City, things have changed dramatically, from the stadium to the training facilities. Does it feel like you're still at the same football club?

Whitts: Probably not. Compared to the Treforest days, where when it was hammering down you couldn't even train because it was too muddy, it's a massive difference. I think that's what everyone at the club was striving for and I think that's what they have achieved.

MTDB: After ther first few seasons you started to establish yourself in the side and in 2009/10 you played an integral part in getting us to the play-offs, scoring 25 goals (league and cup), which was a phenomenal amount for a midfield player. Can you put your finger on how you managed it?

Whitts: I'm not sure, the first couple of seasons were hard for me. Making the transition from Villa to here, getting used to the league and obviously not being one of the more physical players, it was always going to be tough for me. I was happy with how 2009/10 went, it was a good season for me. Being in and around such good players, you're bound to get chances and luckily for me they were going in. I also managed to get quite a few penalties from Jay's diving and stuff like that, so it was good for me and I managed to get quite a few goals.

MTDB: I'll try and edit the bit about Jay Bothroyd's diving when I come to write this up!

Whitts: Don't bother - it's true!

MTDB: OK then. You've scored some incredible goals in my time watching you. Barnsley at home last season and Reading away this season instantly spring to mind. What is the best goal you've ever scored?

Whitts: Barnsley was a nice one for me. In a previous game against them I missed a penalty and Luke Steele, who was their goalie, I knew from the England U21's and we always used to have banter, so he was caning me after that! So, to score that goal against him was nice - just to see him dive for it when he's not getting it. Jay Emmanuel-Thomas set the ball for me, and I thought, "I'm hitting this as soon as I get it," and it was just nice seeing Steeley diving across not getting it. I would say that was the best one, just from the touch and the hit - that's my best goal.

MTDB: With players like Bellamy, Chopra and Bothroyd, did you find it was difficult to express yourself last season?

Whitts: Maybe a little bit. I think there was a lot of pressure on Bellars to take us up. It was hard for him and it's tough to have something like that on your shoulders. It was more of a case of get the ball to Bellars and see what he could do. Maybe my range of passing wasn't happening. I was playing the 10 - 15 yard passes to Bellars and trying to get Jay and Chops into the game. Obviously I had moved into a central position too, which was a whole new dimension for me. Having played the season before out wide, it was new to me. It was another transistional stage going into central midfield and another learning curve, but it has definitely put me in good stead for this season. I'm now sitting in front of the back four and really enjoying it. The gaffer talks to me a lot, he wants me on the ball and thats great to hear from someone like him.

MTDB: You seem to be doing a lot more tackling since the arrival of Malky Mackay. Is that something he has imposed on you and do you think it has made you a better player?

Whitts: Probably. During my first couple of seasons I didn't really get involved with anything like that. It was more about the jockeying side of things, hoping the opponent would pass the ball. I feel like I'm getting stuck in this season. I've got a few bookings, so perhaps I should go back to my other mentality of a couple of seasons ago! Seriously though, I do get a little bit more stuck in this season and it's a different side to my game, one which definately needs improving on, but I feel as though I can get there.

MTDB: How does Malky compare to Dave Jones?

Whitts: Malky's a lot more hands-on than Jones, he likes to be in and around it, telling us what he wants us to do, whereas Dave he was a lot more laid back. He would say: "It's up to you, you're the players - do what you feel is best". It's whatever works best for each manager and the both of them are completely different to be honest.

MTDB: You're reknowned for your shooting and free-kicks. Is that something which you always had in the locker from a young age, or is it coming out more now?

Whitts: I could do better with my free-kicks, there's always room for improvement and I try to practice as much as I can on the training ground. I've always been OK with it though. It's obviously down to a lot of practice. I was obsessed with football as a lad. It's down to practice, so it's always nice when it pays off.

MTDB: You seem a little reserved considering the egos that are associated with most footballers. Even when you score, your goal celebrations are quite low-key. Have you always preferred to keep out of the limelight?

Whitts: I've never really been one to get involved with stuff like that, the paper talk and all the rest of it. I've always preferred to be out of it than in it. It's nice when people talk about you and praise you - I'm not going to complain about that. But I've always been one of those people who doesn't really get involved in any of that. I prefer to see other people doing that stuff.

MTDB: Given all the changes in the summer and the number of players that went out, did you expect Cardiff to be close to top of the league?

Whitts: Definitely! We've got a different contrast of players now, as opposed to the ones that left last season. With Jay and Chops, we lost some big names, and they have been in and around the Championship for a while. This season though, the boys that have come in are not probably house-hold names. They're not people you'd automatically think: "Wow, they've signed this player or that player". In a way they're better though, because on the pitch you know they are there for you. If you lose the ball or you make a mistake, you know one of them is there to cover for you. It's a lot different but in a way it's better.

MTDB: You've been to Wembley for an FA Cup final. How do you fancy another major cup final at Wembley?

Whitts: We want one, definitely, but we've got a hard game against Palace and the two legs are obviously going to make this month a busy one. It'll be a difficult game. It's always been close against Palace, so its going to be hard for us, but it's a game we're really looking forward to and its nice to have that incentive of Wembley.

MTDB: There's a lot of talk that Premier League clubs are keeping and eye on you. How do you feel about that, is there any added pressure?

Whitts: I dont think it's much added pressure. It doesn't really bother me. I've said it all along that I'm very happy here, and I'm playing good football, which is what I want to do. I'm involved in something which I feel is going to be big. I think we can get to the Premiership with this squad and if the gaffer wants to go and spend some money on players in January then fair enough, but I feel as though we're heading in the right direction.

MTDB: You gained England U21 caps whilst at Villa. What with England having long established left sided problems and with Jay Bothroyd having managed it while playing for City, do you still harbour hopes of representing your country at senior level?

Whitts: It's hard to get recognised playing for Cardiff. Jay managed to do it with a little bit of help which was brilliant for him, but at the minute im just concentrating on playing for Cardiff and hopefully getting us to the Premier League. You're always going to have aspirations of playing for your country, there's no greater honour. My under-21 days were brilliant for me and it's something I'd never change, but I'm just thinking about Cardiff and getting us promoted.

MTDB: Finally, you started your career with one CCFC, so can you see yourself finishing it with another?

Whitts: You've thought about that, haven't you?! I'm part of something here. I'm happy here and I'm happy playing football here. If it gets to the stage where something happens where I'm not playing, then I'd have to look at it, but at the moment I'm happy with the way things are going.

David Towler
Cardiff City Suppporters' Trust
January 2012