Wayne Rooney's kick out at Jordon Mutch inside the opening 10 minutes at Cardiff City Stadium on Sunday has been widely deemed by the football media to have been a red card offence.
The referee booked Rooney thereby closing the matter. Utd boss David Moyes defended the decision and believed the referee got it right.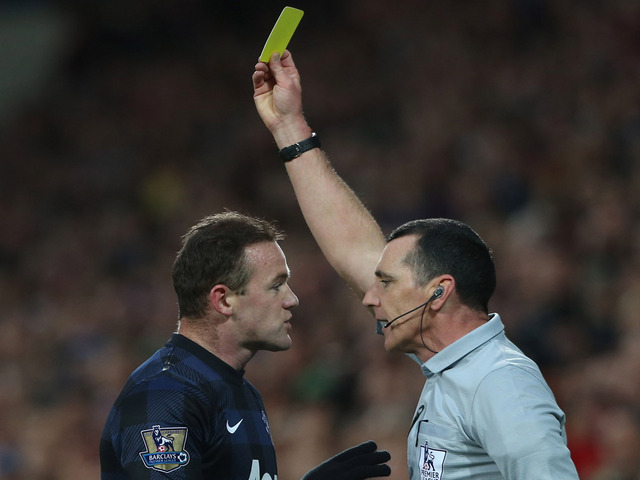 "I thought the boy (Mutch) ran across his (Rooney's) path and there was a bit of a tussle but I don't think it deserved more than a yellow card," he said
"There's lashing out and i don't think that's a lash out. "I didn't think it was a lash out to cause any harm."
TV pictures show Rooney attempting to kick Mutch as the two raced down the touchline, an action that he should have been red carded for.
City boss Malky Mackay answered diplomatically when asked about the incident.
"I have looked at it (the Rooney incident) again and some referees might send him off, but I thought overall Neil Swarbrick had a good game and I think he handled it well.
"I think it was two teams who were tough and committed and there were some tasty challenges throughout the whole game.
"But I think his handling of the game was reasonably good."
Speaking on Monday morning though Mackay admited that he purposely played down the event so that attention was not taken away from the superb effort by his team to hold the current Premier League Champions.
Seven minutes after the challenge Rooney opened the scoring for United. Fraiser Campbell levelled before Patrice Evra headed Utd into a half time lead.
As the 90th minute approached there was another incident that was missed by the officials. Marouane Fellani appeared to move his elbow towards Gary Medel as Cardiff prepared to take a free kick. El Pitbull reacted and raised his hand towards Fellani's face. On another day it could have resulted in a red card for Medel.
The disruption delayed the free kick and when it was delivered by Peter Whittingham his perfect cross was met by Kim Bo-Kyung to earn Cardiff a more than deserved point.
Malky played down the Medel incident as well saying
"Well, he (Medel) is 5ft 2in and Fellaini is 6ft 7in so he is up to his belly button.
"So his arm just about reached his shoulder and then Fellaini has his head down in his face again so I think overall looking at it the referee got it right on both counts."
The match is being talked about for the incidents but take nothing away from Cardiff's role in a cracker at CCS and a result to be proud of.