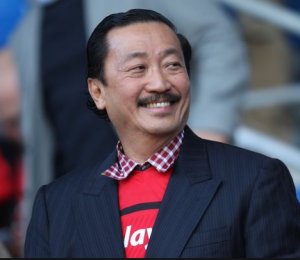 The Cardiff City story is quite a complex one at the moment. A club that has finally made it to the top level of the football pyramid, with a billionaire owner who has settled long term outstanding debt, given a million pund to local charities, a cracking 28,000 seat stadium and one of the games improving young managers, should be the happiest ship imaginable.
But it's far from that.
The ridiculous tampering of the clubs identity. The undermining of the manager by sacking his 'Head of Recruitment' and replacing him with a 23 year old friend of Tan's son. Discovering the new appointment has been asked to leave his post by the Home office because of visa issues. The appointment of staff with no knowledge of the football business or how to run a club. The reports that Tan bought Etien Velikonja without Malky's knowledge. Further reports that Tan tries to pass messages to Malky during games advising him on tactics.
All these things have all driven a wedge between the supporters. It's complex though. Some fans have walked away. Only for Tan to say no problem, we'll bring in some new fans.
The majority, like myself, continue to suport their football team but are embarrassed by the off field circus that seems to offer a new act every week and they are getting more and more bizarre.
Then there's a third set of fans who actually fully support all that's going on. They buy the new merchandise and are happy to have sacrificed everything just to be in the Premier league.
Last season the club was in the Championship and the rebrand was pushed through without too much of a rough ride from the media. But now Cardiff are a Premier League club the attention from Fleet St is much greater and there's a general theme that the manager, Malky Mackay, is getting a rough deal by the eccentric owner, who they see as a figure of fun.
The South Wales derby this afternoon will bring all Cardiff fans back together to concentrate their efforts on beating local rivals Swansea City. I hope the manager has the full support of the dressing room and the players do their bit to keep the fans united. With Malky undermined and under pressure if it all goes wrong on the pitch against Swansea in front on the watching world today the fall out could be spectacular.
Here are some of today's headlines:
Vincent Tan's antics leave Cardiff's faces as red as their shirts - The Observer
The crazy world of Mr Tan - Mail on Sunday
Why a Cardiff thrashing from Swansea could be the best possible result for Malky Mackay - Daily Mirror
And it's not just the media. Check out this little video on You Tube.