Paul Evans reviews last night's defeat at The Amex
http://mauveandyellowarmy.net/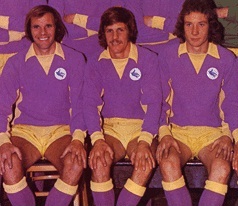 Last night's 1-0 defeat at Brighton, who go to the top of the Championship as a result of their win, was another of those occasional matches where I don't even get to listen to the commentary on the radio, so this will be a piece in which I will talk mostly in general terms about what games like this tell us about the Championship and the teams within it.
I'll start with the game itself and, apologies if this sounds arrogant because it's not meant to be, but it panned out almost exactly as I thought it would.
I think there's a general acceptance that teams tend to be more attack minded when they play at home as compared to what they do in away matches. Therefore, when you think back to early December and how we set up in the reverse fixture at Cardiff City Stadium, there could only really be one way in which Neil Warnock would tackle last night's match.
Seven weeks ago, we took on a Brighton team that could have gone to the top of the league with a win with the accent very much on containing them and, although it may not have made for great entertainment, I would argue it worked – we kept our first clean sheet in months as we played out a 0-0 draw.
The team selection last night only confirmed that we were not going to be taking the game to our opponents – Greg Halford, coming for his first league start for the club, was hardly a like for like replacement for the injured Anthony Pilkington as, he, like fellow midfielder Aron Gunnarsson was ordered to take on a role that was much more concerned with defending than attacking.
Although we would look to cause problems on the break and are capable of troubling the best in the league problems from set pieces, it was a team and philosophy that was intent on another 0-0.
However, my feeling beforehand was that Brighton would eventually wear us down, get a goal in front and then we'd concede another late on as we left gaps at the back in the search for an equaliser.
So, I got the score wrong, but the "tone" of the game right. I don't claim to have any great insight or knowledge there because it just seemed so predictable to me – knowing the manager we have and the players he has to pick from, we were never going to go to Brighton and take them on in an "open" game of football. The fairly heartening part of the whole evening (and the first game as it turns out) is that we have been able to take on what Neil Warnock rates as the best team, as opposed to squad, in the league and frustrate them for much of the time.
Hardly surprisingly, our tactics did not prove popular with the home crowd, but the boos and catcalls the team attracted as they wasted as much time as they could before Brighton's seventy third minute breakthrough would have been music to our manager's ears – "a typical Warnock team" must have been the words on many a home fan's lips, but, in contrast to Saturday where a fussy ref penalised us for breathing at times, we only gave away nine fouls (compared to Brighton's thirteen), so this was disciplined and organised defending, rather than trying to kick our opponents off the park.
In the end, it seems from the accounts of the game I've read, that the result was about right – one of our defenders allowed himself to be turned by Brighton's third choice centre forward (who would certainly be a first choice if he was playing for us) and he got a fierce shot away which beat our keeper on his near post and so our four game unbeaten league run has come to an end.
Without that one moment of quality, albeit helped to some degree by us letting our concentration slip, we might even have been able to nick a goal and achieve the sort of result which would enable the pundits to come out with that line about every team in the Championship being able to beat any other in the league on a given day.
People come out with stuff like that because it is proven to be true occasionally, but, like any twenty four team division, there are leagues within leagues going on and last night was an example of what you get, say, eight times out of ten when one of the Championship's "haves" take on one of it's "have nots" on their own pitch.
In essence, when you look at things in financial terms, I'd say the sides in our league fall into three categories;-
Haves
These are the teams who are prepared to spend big without much thought being given to attempting to balance the books through selling players. They are prepared to gamble on earning the promotion to the Premier League which would make the possible fine they would get for breaking the Financial Fair Play (FFP) rules seem like a drop in the ocean once the television money started coming in – it's an approach that worked for Bournemouth in 2014/15 and, probably, for Middlesbrough last season.
It's still a complete mystery to me how Derby County have not had any FFP sanctions taken against them in recent years (at least they have received some transfer revenue this season from the Hendrick to Burnley transfer I suppose) and, increasingly, Sheffield Wednesday seem to be going down the same route, while, even though they are in receipt of a substantial parachute payment this season, Aston Villa's recent sale of Rudy Gestede to Middlesbrough will have made little difference to the huge transfer deficit they are running this season.
By comparison, Brighton are fairly modest members of the Haves club and it has to be noted as well that they do very well when compared to other Championship clubs in terms of commercial and sponsorship revenue it seems. However, when you read stories like this outlining the losses the club have run up in the last two seasons, then Brighton deserve their place in the group which consists of clubs, seemingly, willing to spend significantly without much in the way of revenue coming in from player sales – the words of Chairman Tony Bloom sum up their approach -
"Any Championship club without parachute payments wishing to compete for promotion will inevitably make significant losses.It remains a delicate balancing act for the board as we strive to achieve our ultimate aim."
Spenders, but also sellers
I would say most teams in the Championship fall into this category. I'm thinking here of sides like Bristol City, Leeds, Fulham, Reading, Newcastle, Wolves and, to a lesser extent QPR who have spent large sums in the transfer market, but would be in profit, or very near to it, in a straightforward comparison of transfers fees coming in and going out – the results may be quite different when wages are factored in mind.
The Have nots
It's pretty obvious that around a third of the teams in the league cannot compete with the others, or opt not to do so, when it comes to transfer spending and, in some cases, wages. Teams belong to this group for a variety of reasons – sides like Burton and Rotherham would hope to eventually move into the middle grouping, but it's probably true to say that their real achievement is getting to the Championship in the first place and they will remain among the have nots even if they were to stay in this league for the next decade or so.
You also have sides such as Ipswich, Forest, Blackburn and, until recently, Birmingham who have played the big spending game in the past, but have had their fingers burned and now choose to adopt a more cautious approach (although in Forest's case they have no choice in the matter as they've been under a transfer embargo for much of the time in the last few seasons).
Some of the sides in the second grouping could well be going up this season and there have been examples in the past (e.g Burnley and Hull) who have been promoted while living within their means so to speak, but there are three sides this season who I'd put among the have nots who are proving that life in this grouping doesn't need to be one of perpetual struggle.
Huddersfield are doing outstandingly while also playing a game a long way removed from the style of football you may have expected from these "underdog" teams. Barnsley's excellent progress since their promotion can be gauged by the number of vultures circling around them hoping to pick off various members of what is a vibrant and mostly young squad, while the more pragmatic Preston are having a second Championship season where a Play Off place looks a much more likely outcome for them than a bottom three finish.
So, where do City stand in all of this? There's no doubting that, ever since the summer 2014 transfer window closed, we have operated as a have not club and the teams I've always associated us most with are Ipswich and Gary Rowett's Birmingham who have both been able to mount Play Off challenges in the past while playing a brand of football that could not really be called entertaining.
What has been clear over the past two and a half years is that Vincent Tan has not been willing to sanction the kind of spending which was a leading factor in us winning this division in 2013 – we played the big spending game and it worked in the short term, but then all went wrong in the medium to long term and I cannot really blame our owner if his attitude is one of "once bitten, twice shy".
This is why I think Neil Warnock may have been disappointed after his recent meeting with Vincent Tan if he went into it hopeful of being given substantial funds for the transfer window next summer – having had two and a half seasons, during which we were in receipt of substantial parachute payments, where we have adopted an approach where staying within the FFP guidelines was a bigger priority than it appears to be at other clubs, it seems completely illogical that we would become one the Championship's haves, just as we went into a season when we were getting the last, and smaller, of our parachute payments.
Given his experience and knowledge of this division, Warnock surely didn't expect to be told that he would be given a football budget to match the ones which have become the norm at the Derby's of this world next season. No, it seems to me that what he wants is for us to become more of middle category club with, possibly, a bigger portion of any transfer receipts coming to him – if that was his aim, then I think he may get what he wishes because there's been little to suggest that Mr Tan is averse to money being spent on new players as long as there are corresponding savings to cover any spending.
In that respect, City may well have always been members of the spenders, but also sellers group in spirit and, on further reflection, it could be true to say that they have been in actuality as well. However, whereas many of the teams in the middle grouping have almost come to expect an outgoing seven or even eight figure transfer deal every year, we have only been able to fund new signings by wage bill savings and, with I'd would say all of the really big earners we had having now left the club, the room for manoeuvre in terms of getting the sort of football budget Mr Warnock probably wants becomes more limited.
This brings us to the thing that I feel is now holding us back more than anything – our inability to sign or produce players that other teams are willing to spend a lot of money on. There was a time when we needed to have a steady supply of good quality youngsters coming through or senior players signed for small fees who had developed at Cardiff who we could sell every year to keep the administrators or liquidators at bay, but, as such fears have faded, so has our knack of being able to generate large sums through player sales.
As Chris Hughton said after last night's game, there are good players at Cardiff, but the truth as I see it is that, at just the time when we have stopped producing first team players from our Academy, that we could sell for a huge profit against any development costs, we have also forgotten how to work the system when it comes to getting the best transfer deals for players we are prepared to let go.
The fact that we are still adding to the long list of players who might have been sold for millions, but were instead let go for nothing (probably with a "sweetener" for agreeing to have their contract cancelled from the club to help them on their way as well) should be a source of serious embarrassment to those in senior positions at the club. For me, this is the situation that needs to change most at Cardiff if we are to become the sort of club that gives their manager the kind of budget Neil Warnock wants this summer, because, having got so little out of spending big first time, I feel it would be naive, as well as wrong, to expect Vincent Tan to do it again – we need to start doing again what so many of those clubs in that middle grouping manage as a matter of course.
*picture courtesy of http://www.walesonline.co.uk/