http://mauveandyellowarmy.net/
My thoughts on the appointment of former Millwall manager Neil Harris to replace Neil Warnock. Harris, who scored once for City in a very short loan spell here in 04/05 (pictured), has been the favourite for the job virtually since it became available and comes here having done a good job with the London club. i say that because he got them promoted, steered them to an unlikely play off challenge in our promotion season and also led them to a series of notable cup wins.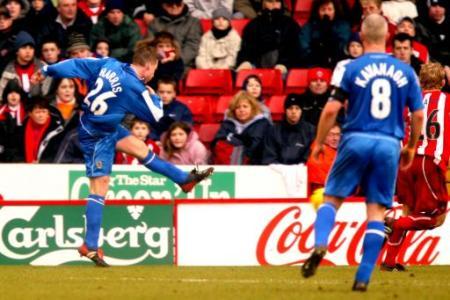 However, last year was a bit of a struggle and the same applied this season until Harris decided to resign early last month with the club eighteenth in the table. As I mentioned earlier, I'd say that is a good record overall given the budget Harris had to work with, but I must say that I agree with the views expressed by an awful lot of City fans on social media that this is an underwhelming appointment with, seemingly, more than a hint of the Russell Slade to it.
One of the reasons I say that is that Harris would have come comparatively cheap as there was no compensation to be paid to a current club and, as a manager used to working with a small budget, I do wonder about scenarios I read on a messageboard today in relation to the Emiliano Sala case where City are, seemingly, facing a three window transfer embargo if they do not pay up the first third of the £15 million transfer fee for the tragic Argentinian striker.
With what is to all intents and purposes a guilty verdict against them from FIFA that the club are taking to the Court of Arbitration for Sport, is this an appointment made in anticipation of an embargo or, maybe more realistically, the fee being paid and there being a subsequent lack of funding for a budget that would come nowhere near the one Neil Warnock had?
Of course, you'd like to think that there would be insurance to cover the second option, but there has to, surely, be some doubt as to whether any such company would be willing to pay up given the circumstances behind the flight that ended with the loss of two lives.
Leaving that aside, it is clear that Harris comes here with a perception that he is yet another in a long line of long ball merchants. Certainly, the relevant stats tended to show that Harris' Millwall were the side most like Warnock's Cardiff in the \Championship when it came to style of play.
Indeed, Harris has spoken of how Millwall fans do not want to see the sort of game favoured by so many these days and you have to wonder if he comes here thinking the same about Cardiff City supporters? Billed by Mehmet Dalman as an "offensive" manager whose sides have thirty five shots per game, I'm afraid that's not how I recall his Millwall side – "offensive" has a variety of meanings, but I don't think of it as meaning attacking when it comes to how Millwall played.
If the City hierarchy believe they have appointed a manager who plays attacking football, I think they may be in for a disappointment and, while I feel this may have been the case a few years ago, they could also be in for a surprise if they think that City fans wanted more of the sort of football that was seen in the latter stages of Neil Warnock's time with us.
It seems to me that if there is one main reason for the lack of enthusiasm from Cardiff fans regarding this appointment it is because it is seen as being more of the same and speaking for myself, I'm sick of seeing the sort of football that has been the staple diet at Cardiff for far too many of my fifty six seasons watching the team.
In saying that, I accept that I'm being unfair in many ways towards Neil Harris there because it may be that he'll come here and, gradually, look to play in a more rounded and progressive way – I always accepted my opinion of the style of football favoured by Neil Warnock was a fickle one in that I put up with it while we were winning, but would criticise it when we stopped doing that.
I also realise that I leave myself open to charges of being a football snob by taking that approach, but, increasingly, I think this line of thinking is shared by the modern football fan. The attitude to the likes of Tony Pulis. Sam Allardyce etc. has changed in recent years and "long ball" managers have to accept that the level of patience shown to them when their approach isn't working is much lower than it once was – it seems people just don't like their club playing in such a manner these days.
In many ways this isn't fair in what is, after all, a results business, but the reaction to what has been happening this season at City has been an interesting one in that so many more supporters than I would have expected are sharing my opinion of the sort of football Cardiff have become associated with.
Given the response to his appointment, I feel sorry in some ways for Neil Harris and I genuinely want him to prove so many of us wrong because that will mean that we are doing well, but, as yet, there is no sign of the sort of structured thinking that it was hoped by many would arise from Neil Warnock leaving.
Hopefully, when Neil Harris and representatives from the Board speak to the media for the first time, there will be some sort of talk about an overhaul of the club's approach to things like player recruitment, youth development and playing style which many now desire, but, realistically, I'm not expecting it.
Although it might not sound like it, I do wish Neil Harris all the best at Cardiff like I would any new manager and I think it's only fair that he be given time to prove himself, but, rather like the aforementioned Russell Slade, I'm not sure he will get that from everyone – in fact, I'm pretty sure he won't.