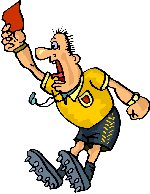 Three of those were victories including the 4 - 0 home win over Doncaster in 2010 when Craig Bellamy made his debut for City.
Swarbrick's last Cardiff game was the disapppointing 2 - 0 home defeat to West Ham in the 2012 play off semi finals.
So far this season from 10 games he has issued 1 red card and 29 yellow cards.
He is based in Preston, Lancashire and was appointed to the Select Group of Referees in 2011.