https://mauveandyellowarmy.net/
So, it started against Bristol City and it ended against Bristol City.
I well remember Neil Warnock's first game as Cardiff City manager, Bristol City at home in a Friday night televised game in front of what was a bumper crowd by the standards of that time of 22,776.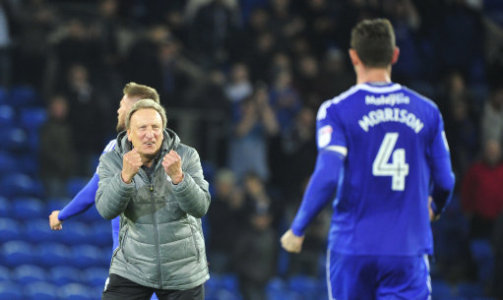 A win against Bristol City on Warnock's opening night
There was a different feeling in the ground that night – a club that had been stagnating after a relegation, a distinctly unpopular rebranding and boring, largely unsuccessful, football which had seen it drop to twenty third out of twenty four in the Championship seemed to have come alive all of a sudden.
Speaking for myself, I hadn't enjoyed a game like I did that one for at least a couple of years – yes, beating the team I regard as our fiercest rivals helped, but it was a lot more than that and you only had to look at one man really for the reason why.
Neil Warnock galvanised a failing club in just ninety minutes that night. The honour of scoring the first goal of the Warnock era went to Peter Whittingham with one of those penalties that you just knew he would score, but, everything you knew about the new manager suggested that Whitts would not be his cup of tea. Although he hung around for the rest of the season and played a part in the climb up the table which followed, there was an inevitability about the departure during the following summer of the man who most personified a way of playing that would disappear from the team under the new boss.
It was the other scorer that night who characterised the new Cardiff. Sol Bamba's goal, volleyed in from about a yard out following a corner, was typical of so many scored by the team under Warnock's reign and immediately endeared the centreback to supporters , but it was the new man's defending, leadership, anticipation and attitude which made him a magnificent signing – as was the other free agent signing making his debut that night, Junior Hoilett.
A goal by Lee Tomlin, who the City fans booed throughout for his willingness to go to ground, gave an in form Bristol the chance to get something from the game, but we were never going to give that one away and the atmosphere in the ground as the minutes ticked down was one of celebration, rather than the usual trepidation you get when City are 2-1 up with little time left.
I'd never been a Warnock fan mainly because of the style of play that he was associated with throughout most of his managerial career, but had noted that his QPR side which won the Championship title in 10/11 had been easier on the eye than most Warnock teams.
Indeed, as the new manager coaxed stellar performances out of Kenneth Zohore for a while, I found myself looking forward to home games again and, to my surprise I began enjoying watching a Cardiff City side managed by Neil Warnock play!
No matter what his reign came to signify for different fans, there can be no doubt that Neil Warnock's crowning glory at Cardiff, the promotion to the Premier League in 17/18, was a superb achievement. Once again, some of the football played in the first month of that season especially was top drawer stuff as two more inspired free transfers signings, Nathaniel Mendez-Laing and Neil Etheridge were hugely impressive at either end of the pitch.
For me, the night we murdered a much hyped Leeds side in front of the Sky cameras and a crowd of 27,160 in September 2017 was the high water mark of Neil Warnock's time here. We were excellent that night and the third goal tapped in by Zohore after a mesmerising stint of first time passing was all the proof you needed that football under Warnock didn't have to be long balls, power and set pieces.
It would be wrong to say that it was downhill all the way after that night, but Zohore, who was so important to how we played then, suffered an injury and was never the same player for us again. The results were still coming, but where good teams were being blown away for a while, now they were ground down, mostly by attritional and functional football.
Promotion was still a hugely enjoyable experience though and much credit should always be given to manager, coaching staff and players for the way they held off a challenge from a side who were their polar opposites – the media darlings of Fulham.
With hindsight, May 2018 was the time when Neil Warnock should have left – I don't think his reputation as a manager has ever been higher than it was then and he would have been hailed and remembered as a genius by Cardiff fans.
I was one of those who thought that our manager had earned the right to a full season at finally cracking the Premier League – although, in fairness, he probably never ever managed a club that was not considered to be among the favourites for relegation from the top flight.
Another relegation says that he failed again at First Division/Premier League level and a perception, that had begun in the January 2018 transfer window, that he was a superb spotter of free transfer bargains, but nowhere near as effective when the players concerned cost millions of pounds grew.
Of course, there was the £15 million signing which, perhaps, could have proved that theory wrong, but Emiliano Sala was never to kick a ball for the club as he fell victim to a tragedy that has cast a long shadow over the club throughout 2019 – even the most critical analyst has to concede that the awful loss of someone who was at the prime of both his life and his football career had a profound effect on what happened to City in 2018/19.
Yet, among all of the losses which always had City down as pundits' favourites for the drop, there were games when established Premier League sides were beaten in a comprehensive manner which the club's previous Premier League team were never able to match.
They didn't show it enough, but I can't help thinking that maybe a bit more self belief, as opposed to the feeling that was often portrayed that a club like Cardiff should feel honoured to be playing at such a level, could have seen us picking up that extra win or two which would have made all of the difference – more positivity from the manager at already relegated Fulham in April would surely have helped in that direction as well.
This time it seemed to me that the time was right for Neil Warnock to step aside at the end of a season with his hero standing among so much of the fanbase still intact. Instead, what we got seemed wrong right from the start as the manager announced that 19/20 would be his last season in management as he hinted that he might decide to leave early around Christmas time if the expected promotion challenge was not forthcoming.
Worse for me though was a set of transfer deals which screamed out that we would be seeing a version of what became known as Warnockball at its most basic and this in a division which had seemed to embrace a more technical, pacey, flexible and modern game during our season away from it.
For all of the talk of us competing against larger clubs with larger budgets, City were one of the biggest spenders in the Championship during the summer transfer window and, although Curtis Nelson has dropped one or two hints that he might be another very good free transfer signing in the last couple of matches, I think it's fair to say that none of the big money signings can be classed as total successes so far.
The blueprint for the way the season has gone was set at Wigan on the opening day – "ponderous" was the word which summed up our performance that day for me and, to be honest, it's a description which could be applied to most of the others since then as well.
Neil Warnock has seemed powerless to alter the downbeat nature of the campaign in its first three months as well and, for me, his final three matches in charge illustrated a big difference between the end and the beginning of the Warnock era.
Just think back to October 2016 and that Bristol City game – the team were lifted straight away to a new level of belief and commitment and the support soon latched on to that. Contrast that to the Swansea, Birmingham and Bristol City matches though and what comes across to me is how poorly we started each game – it was as if the motivator had lost the knack and you have to wonder if this may have been at least partially down to what happened on that flight from Nantes to Cardiff on a Monday night back in January.
Anyway, I sense that I'm getting more critical of our manager and I don't want to do that. I certainly have been more prepared to knock our former manager on here this season, but tonight that should be for a future piece, I want this to be more of a recognition of the good things, and there were many, that Neil Warnock did for Cardiff City.
He's definitely up there as one of the best managers I've seen at the club and I thank him for that while wishing him a happy retirement – although I wouldn't rule out the possibility of him popping up again sometime in the future to turn around the fortunes of another failing club!